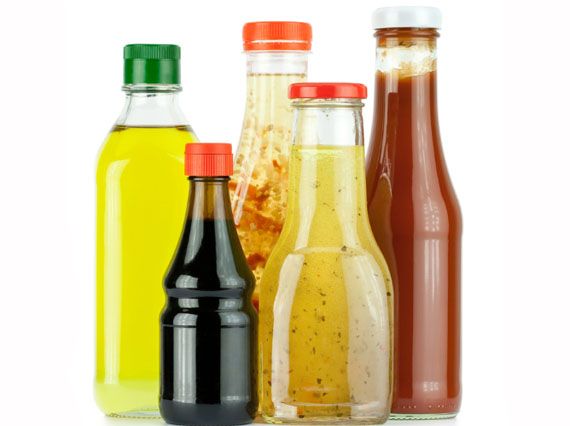 What's a French fry without sweet ketchup or a hunk of chicken without a smothering rub of a tangy BBQ sauce? Hardly satisfying. I decided to round up my latest finds of some sophisticated sauces, as I continue to dress my food staples with the finest of flavors.
Tentay Banana Ketchup
A ketchup with no tomatoes? That's bananas! But in the case of Tentay's Banana Ketchup, just bananas is what one gets in this tangy sauce. Bananas are the number one ingredient in each bottle, but salt, sugar, vinegar, onion, garlic and a few other ingredients give Tentay Banana Ketchup a seductively sweet flavor. It's a tropical party with a Mexican Hat dance in bottle form. I can't resist it for pastas, chips and even hot dogs. Since 1949, Tentay Banana Ketchup has been made in Navotas City, deep in the Philippines.

Halphen Red

The humble, but classic, burger has always had to share ketchup and mustard with other Americana favorites, like the hot dog and French fry. Now hamburger fans can rejoice. Halphen Red, a peppy packaged sauce out of California, was perfected by a hamburger zealot 25 years ago and is the first of its kind. The creamy orange-hued hamburger sauce was designed for burgers, but innovative fans find it delectable on rolled tacos, bacon filled omelets and crisp egg rolls. What's more, Halphen Red donates up to 40 percent of its profits to help schools and non-profits raise funds for projects.

Blair's Heat Wasabi Green Tea Exotic Hot Sauce

"Extreme" is no exaggeration for Extreme Food's line of insanely hot products, noted even in the Guinness Book of World Records for "Hottest Product Ever Created." The Blair's Heat Wasabi Green Tea Exotic Hot Sauce is no exception on the taste bud tantalizing thermometer, as this special sauce uses actual Wasabi root imported from Japan (As Extreme Food reminds us, few sushi restaurants use authentic wasabi, instead serving a milder mustard substitute).

Chemicals found in wasabi have been reported to possess antibacterial and antifungal properties to retard platelet aggregation and to protect against cancer. No wonder Blair's Heat Wasabi Green Tea Exotic Hot Sauce has the power to singe hair off of one's forearm; but if it can be tolerated, it's a treat to any Asian dish needing flavor fireworks.