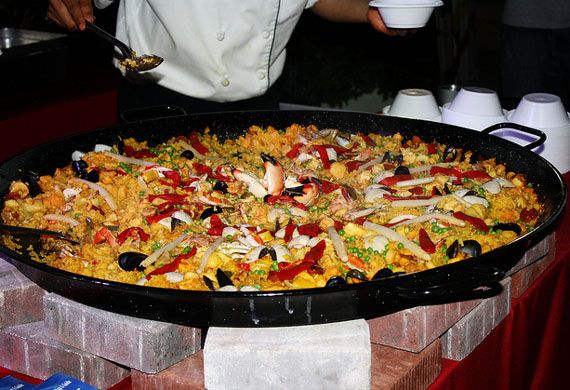 Food is a very definitive and important part of any culture; Italians have pasta, Mexicans have tacos and Chinese have white rice. And just like these nations, Spain is very passionate about its cuisine and culture and has brought the two together with the third annual El Coto de Rioja Paella Parade.
El Coto de Rioja wine was founded in Oyón, Spain in 1970 and first bottled in 1975. El Coto has quickly become the leading brand in Spain and the El Coto de Rioja is now one of the top selling Riojas in the world. What better way to showcase its unmatched flavor and quality than to pair it with Spain's iconic dish and share it with hundreds?
"We are thrilled to continue our tradition of celebrating the food and wine of Spain with this year's El Coto de Rioja Paella Parade. The public has embraced Spanish culture and these events have brought out the enthusiasm of local chefs for Spain's traditional flavors. Expanding to four cities, builds on our past success, engaging even more consumers," explains Caterina Hausmann, Brand Manager for El Coto Rioja.
The four different cities participating in this year's celebration are
Miami
(event took place on March 9), New York City on May 23, Chicago on June 23 and ending in June in Seattle (date to be announced). Local chefs from top restaurants in each city will compete to create their own version of the Spanish favorite.
Guests at the events will have the privilege of tasting each chef's paella with a perfectly paired selection of El Coto de Rioja wine. Chefs will be judged by an expert panel and they will determine the winner of "Most Creative Paella," "Best Use of Ingredients in a Paella" and "Best Overall Taste." The top honor of "El Coto de Rioja Paella Parade Pleaser" will be voted on by the guests themselves after they have sampled each paella and sipped on their delicious El Coto de Rioja Blanco, Rosado and Crianza.
The Miami International Film Festival was the site of the first stop on the Paella Parade. Following one of the film's screenings, ten local chefs showcased their respect for Spanish flavors by whipping up their unique interpretations of the signature dish.
The winning chefs from the Miami Paella Parade were announced and Esteban Garcia and Claudio Bravo from Garcia's Seafood Grille & Fish Market, in Miami were given the esteemed "El Coto de Rioja Paella Parade Pleaser" title.
Click Here
to get Chef Garcia's winning paella recipe!
New York City, a quintessential melting pot of cultures and cuisines itself, will be the next to join in on the festivities. It will be held at the scenic South Street Seaport Water Taxi Beach from 6 p.m. to 9 p.m. Tickets are $35 for one and $65 for two. Go to
paellaparade.frederickwildman.com
for more details.