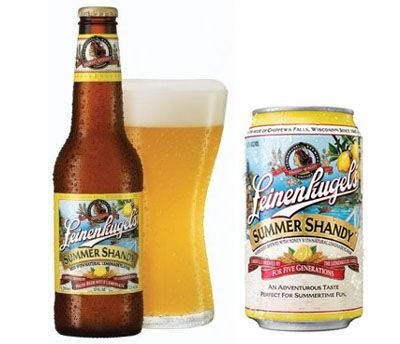 With winter behind us and summer just around the corner, the Jacob Leinenkugel Brewing Company, Chippewa Falls, Wisconsin, thought we could all use another dose of their Summer Shandy. The first brewer in the U.S. to bottle a shandy-style beer, Leinenkugel's now offers Summer Shandy, available April through August, in cans, bottles and on draft.
The Summer Shandy brew is a refreshing combination of select malted wheat and barley, lemonade flavor and a hint of Wisconsin honey. As soon as it was released to consumers it was an instant hit and its fans have been anticipating its summertime return through the chilly winter months.
"Thereís nothing like a cold Leinieís Summer Shandy on a warm summer day. When we bottled our combination of high quality craft beer with tangy lemonade, we never imagined fans would respond so passionately," says Jake Leinenkugel, fifth generation brewer and president of the Jacob Leinenkugel Brewing Company.
The "shandy" (which is short for "shandygaff" as itís called in England and Germany) is usually a mixture of beer and soda or lemonade which has been found all over Europe since the 17th century. Leinenkugelís
Summer Shandy
has all the qualities of its predecessors with a tangy character and malty undertones of hops.
Its crisp, tart lemon flavor makes a perfect complement to spicy and bold grilling dishes, and its subtle hoppiness creates the perfect balance for light, summertime salads. To get you ready for BBQ season,
baseball tailgates
or a big family get together, Leinenkugel offers a cool recipe to add even more sizzle to your seasonal soiree.
Leinenkugelís Grilled Shrimp Tacos, Charred Jalapeno Lime Slaw and Cilantro Cream: Serves 4
36 shrimp, peeled and deveined

12 corn tortillas

Shrimp Seasoning

? cup Old Bay

? cup chili powder

1 tablespoon celery salt

1 tablespoon cayenne

Cilantro Cream

8 oz. sour cream

4 oz. lime juice

? oz. chopped cilantro

4 oz. mayo

2 oz. honey

Charred Jalapeno Lime Slaw

? head cabbage, sliced as thin as possible

? cup sugar

1 cup diced tomatoes

1 cup corn, frozen, defrosted

? cup lime juice

2 tablespoons cilantro

3 jalapenos, grilled or roasted, sliced with seeds

2 oz. Leinenkugelís Summer Shandy

Mix the Old Bay, chili powder, celery salt and cayenne in a large metal bowl. Add the shrimp, coat well, and put in refrigerator.

For the cilantro cream, mix all ingredients with a whisk, put in small bowl and refrigerate.

For the slaw, mix cabbage, sugar, tomatoes, corn, lime juice, cilantro, jalapenos and Summer Shandy, let sit out and marinate (can be made up to a day in advance).

For the assembly, place shrimp on a hot grill and cook evenly on both sides. When all shrimp are cooked, place in a bowl, and quickly grill tortillas to soften. In the softened tortillas, place cabbage, then shrimp and finish by drizzling cilantro cream.

Now all that's left to do is sit back, relax and enjoy your delicious meal with a cold Summer Shandy.

Photo Courtesy of Leinenkugel Brewing Company