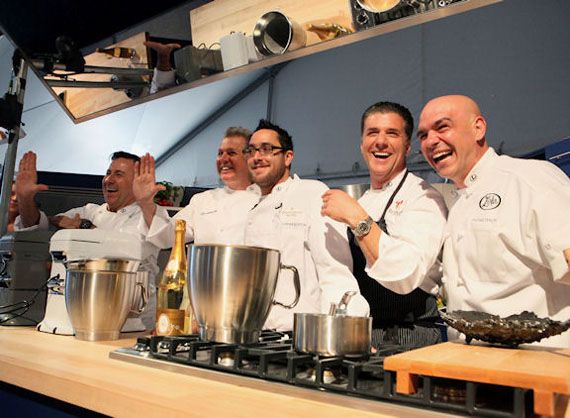 Photos Courtesy of Team One & Ray Pearson
For an extraordinary three days, thousands of guests were beguiled by the joy of cooking and sampling of extraordinary wines at the Pebble Beach Food and Wine.
The Inn at Spanish Bay
, The Lodge at Pebble Beach, and the Pebble Beach Equestrian Field played host to 70 celebrity chefs, 250 wineries, two Grand Tastings, and nine cooking demonstrations.
Ubiquitous thwacks of golf balls, 180-degree views of whitecaps, rocky shores, and wind-swept beach grass easily make clear why The Links at Spanish Bay are called Scottish-style. Salty ocean breezes are strong enough to raise the nap on a Harris Tweed jacket and provide great lift for the many sea birds. Pebble Beach is located adjacent to Monterey, CA, a two-hour drive south of
San Francisco
.
Premier personalities at the PBFW were the Lexus Culinary Masters Daniel Boulud, Michael Chiarello, Dean Fearing, Christopher Kostow, Masaharu Morimoto and Michael Symon. In announcing the Culinary Masters Program, Dave Nordstrom, the auto maker's VP of Marketing, said: "We know epicurean pursuits are a passion point for our customers and we have a well-established history of aligning with premier food and wine
events."
This intro was a perfect segue into the
Taste Perfection with Louis Roederer Cristal
. The chefs dazzled the audience by preparing food inspired by six distinct tastes, all accompanied by Cristal Champagnes. The chefs' next star turn was at
A New Spin on Haute Cuisine with Champagne Krug
.
Potato panna cotta, pork skin crostini, salmon pancetta, beef, quail, and chicken were exotically accompanied with sea urchin, lotus chips, Monterey seaweed, and lemon espuma. Krug Champagnes included MV Grande Cuvee, 1998 Clos du Mesnil and Vintage Krug, 1989 Collection Krug, and a Rosé Krug. Both of these events were presented by Lexus.
Glorious food spanned the alphabet, from abalone omelets to zucchini fritters, and all manner of fish, fowl, and farm animals in between. Tartares, caviars, and ices punctuated the offerings and added texture, color and excitement. Food celebrities presented entertaining demonstrations and offered tidbits of culinary wizardry.
Among them, Tyler Florence used an
immersion circulator
(cooks food in sealed plastic bags in a hot water bath at precise temperatures) to slow-cook chicken before coating and deep frying. Guy Fieri ("Fee-eddy") regaled the audience with stories while preparing seemingly unrelated food components before assembling all in a lightning-quick grand finale, resulting in his spectacular Hong Kong Noodle dish.
Dan Dunn (of Booze, Blues & BBQ fame) concocted three different cocktails to compliment his twists on barbecued ribs, beans, and mac and cheese. At each demonstration, murmurs from the audience could be heard, as pungent, delectable fragrances wafted from the stage.
A never-ending array of wines was available for sampling during the weekend, many presented by Master Sommeliers. Of the 22 wine seminars, my favorite featured two of the great classified growths of Bordeaux: Chateau Lagrange, presented by winemaker Matthieu Bordes, and Chateau d'Issan, presented by proprietor Emmanuel Cruse.
Standouts among ten wines sampled were the Lagranage 1985 "one of the great classic vintages of Bordeaux," and the d'Issan 2006, "one of the great wines of the appellation." We were reminded why Bordeaux is the standard of excellence against which all the world's great red wines are judged.
Whimsy winked its eye more than a few times during the weekend, adding flavor to the meatier aspects of the presentations. Some of my favorites: Chef Michael Chiarello giddily describing his 138 mph ride in the insanely sexy
Lexus LFA
super sports car on the Laguna Seca racetrack as "like Viagra on wheels;" buttered popcorn (popcorn at PBFW?) seasoned with black truffle salt; Guy Fieri referring to mayonnaise as "food lube;" and the Grand Finale Dinner's "Egg-Ceptional" dessert. This was Chef Michel Richard's signature use of trompe l'oeil to fool our eyes. The "eggs" were lemon, meringue, chocolate and ice cream!
As the Sunday sun set over Spanish Bay, the skirls of the inn's bagpiper called home the golfers, and signaled the perfect ending to a perfect weekend of the joys of cooking, camaraderie and the glories of food and wine.
Christoper Kostow's Coffee Sponge
Dean Fearing's Barbecued Shrimp Taco
Michael Chiarello's Burrata and English Peas
aniel Boulud's Wild King Salmon with Sorrel Sauce
Michael Symon's Zucchini Fritter
Masaharu Morimoto's Cristal Bubble Tea