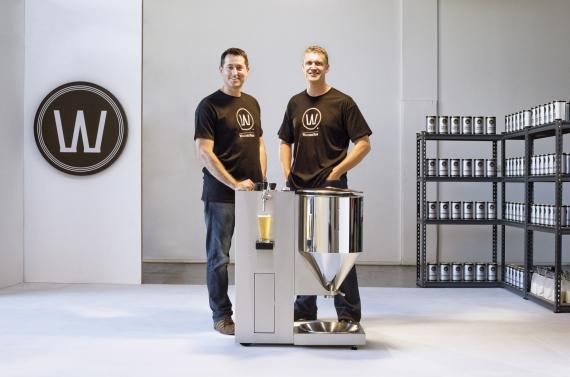 Photo Courtesy of WilliamsWarn
Home brewers have long been frustrated by the inability to brew beer as perfect as those commercially available. Luckily the WilliamsWarn Personal
Brewery
has risen to the challenge, giving beer drinkers something to cheers to.
Developed by Master Brewer New Zealander Ian Williams and his business partner Anders Warn, the WilliamsWarn Personal Brewery is capable of producing "cold, perfectly carbonated, clear, commercial quality beer made in seven days."
The WilliamsWarn Personal Brewery is the first all-in-one brewing
appliance
, allowing the operator to make 23 liters of beer in one step. The special system can brew commercial quality beer, in all 78 different styles and can even create a personal brew. It is also much quicker and less frustrating than the typical home brew kit because the kinks that come with home brewing, like flatness and incorrect flavor, have been worked out.
The thought and patience that goes into this personal brewery doesn't come cheap. Made of premium quality stainless steel and including a brewing tank, refrigeration system and ergonomically designed dashboard panel, the beer lover's dream machine can be yours for $5,660 NZD, around $4,500 in U.S. currency. And there are plenty of goodies to go with the gadget, like liquid malt extract and a kit for brewing summer ale.
If you don't believe the beer can be good, WilliamsWarn invites you to have your first pint on the house at the Auckland showroom, where you can also see the personal brewer in action.
{start-jlvideo}822{end-jlvideo}