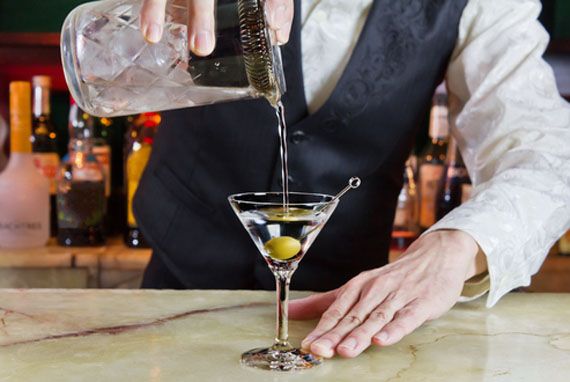 Photo Courtesy of Shutterstock
This
Father's Day
, whip up a simple cocktail that will be certain to please the palate of the man you look up to the most. We asked some of the best bars in the world to tell us their picks for this year's celebration, based on very basic criteria: keep it simple to make and give us strong flavors Dad will enjoy. So if you are lucky enough to live near one of these fine drinking establishments stop on by. If not, we made sure these were perfect for you to make at home. Cheers to Dad.
Salty Dog
ABH at the Thompson Specialty Cocktail
Dry gin
Fresh grapefruit
Himalayan pink salt
1. Fill shaker with ice.
2. Add 2 oz. Hendrick's Gin, fresh squeezed grapefruit juice and a dash of Himalayan Pink Sea Salt.
3. Shake really well and pour into a large rocks glass.
On the roof of the Thompson Hotel, Beverly Hills, signature cocktails and California cuisine are served up poolside under the stars. ABH plays host to private cocktail parties and provides six secluded cabanas, giving guests a rare rooftop treat.
Photo Courtesy of Thompson Hotel
Gin Fix
Eric Alperin at The Varnish Bar Los Angeles
2 oz. Gin
1/2 Lemon
3/4 Pomegranate grenadine
1. Pour gin and grenadine into rocks glass filled with crushed ice.
2. Garnish with lemon wedge.
With a 2010 nomination for Best American Cocktail Bar and Eric Alperin being nominated for American Bartender of the Year 2010, we'd say Varnish Bar in downtown L.A. is doing all right for themselves.
Photo Courtesy of Varnish Bar
The Classic Negroni
Employees Only NYC
1 oz. Campari

1 oz. Gin

1 oz. Sweet vermouth

1. Add ingredients into a mixing glass with ice and stir.
2. Strain into a martini glass.
3. Garnish with an orange rind.

This Upper West Side mixology bar may not be as snooty as some others, but they're serving up stiff
drinks and tasty bites to a packed house on any given night. Photo Courtesy of Bartomeu Agnual




Mint Julep
Proof on Main 21c Museum Hotel Kentucky
Handful of mint leaves (enough so that the glass is half full)

1 oz. Sugar syrup

2 oz. Woodford Reserve

Crushed ice to fill glass 1. In a rocks glass, lightly press on mint with a muddler or back of a spoon.
2. Add sugar syrup and pack glass with crushed ice.
3. Pour Bourbon over ice.
4. Garnish with a sprig of mint.

Their art-driven design and innovative food and beverage has earned Proof on Main a "Best New Restaurant" title by Esquire Magazine and they're keeping patrons happy with over 50 of Kentucky's finest bourbons in stock. Photo Courtesy of iStock




Traditional Vodka Martini
112 Prime Miami


2 Parts vodka

3 Blue cheese stuffed olives

1. Shake vodka with ice until chilled.
2. Serve straight up in a martini glass.
3. Garnish with olives.

Beautiful Latina women, mouthwatering steaks, and strong-as-sin drinks keep men coming back again and again to this sizzling South Beach bar
and restaurant.Photo Courtesy of Gary James



Princess Peach
Gansevoort Park Avenue NYC
2 Parts Bulleit Bourbon

1 Part peach liqueur

Splash red wine
1. Pour bourbon and peach liquor into a rocks glass filled with ice.
2. Top with red wine.



Uptown classic and downtown cool merge at this stylish, 20-story Park Avenue Hotel. Their cozy bar and lounge offers boldly infused liquors and satifsying Italian cuisine to their elite guests. Photo Courtesy of Gansevoort Park Avenue




Pan American Highway
Phil Ward at Craft & Commerce San Diego


3/4 Lime

.75 oz. Grenadine

1.5 oz. White rum

.5 oz. Mezcal

1. Pour ingredients into a shakers and strain into a coupe.
2. Garnish with a lime wedge.

When a bar is known for making a slow-melting, perfect cube of ice for its superior cocktails, you know it's in a league of its own. With a focus on thoughtful cocktails, Craft & Commerce has distinguished itself in the San Diego bar scene. Photo Courtesy of Craft & Commerce





The James Bond Cocktail
The Savoy, London
Crown Royal whisky, a double

1/2 Measure of Triple Sec

2 Dashes of Angostura
Orange peel - not a slice
1. Combine the Crown Royal, Triple Sec and Angostura and pour over ice into a coupe.
2. Garnish with orange peel.




Ian Fleming, creator of James Bond frequented the iconic Savoy's American Bar and considered it one of his favorite places to have a sip. To celebrate the latest James Bond novel the Savoy has introduced The James Bond Cocktail, a drink which is, in fact, in the book.