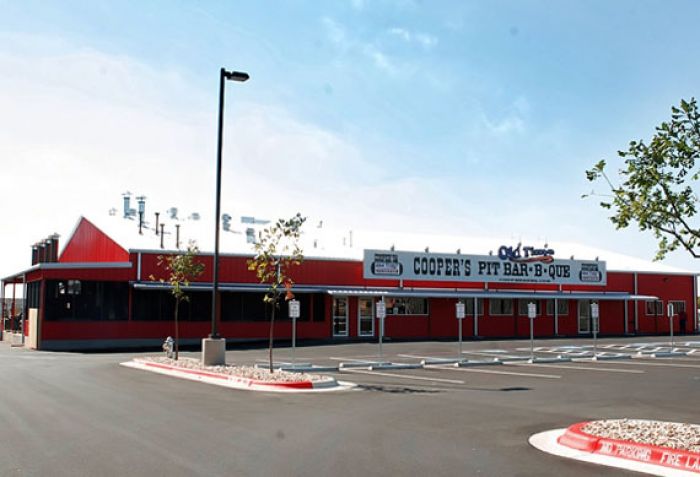 Photo Courtesy of Cooper's Bar.B.Que
In Texas,
everything
is bigger and BBQ is no exception. The Lone Star State features some of the country's best BBQ, though its method of cooking, preparation and flavoring catches many visitors off-guard. Now before we delve into the "best of the best," let's look at the different styles of Texas BBQ.
Texas features four regional styles of BBQ: south, west, east and central. Central Texas BBQ is without a doubt the most popular, which does not use sauce (sauce is considered an insult to Central Texans, much like ketchup is to Chicago hot dogs).
The three most popular meats are ribs (usually pork), brisket (upper chest of the cow) and sausage, which are then cooked indirectly with pecan wood (pecan is the official Texas tree). The use of indirect heat distinguishes "real" BBQ from amateurs. Because it is not grilled, cooking times may extend up to 24 hours, which produces a subtle smoke flavor and fall-off-the-bone tenderness. As delicious as this sounds, Texas BBQ is as much about the experience as the food.
How to Order
Most BBQ
restaurants
serve food cafeteria style. You walk in the front door - usually through a dark, smoky hallway - and up to the BBQ pit. Once there, order your meats (prices usually listed by the pound); traditionally, meats are served on butcher paper. With your BBQ in hand, you then walk to a second counter and order sides. The most popular side dishes are cole slaw, potato salad, white bread, pickles and onions.
Important tip:
Do not ask for silverware. Texans eat BBQ with their hands; most restaurants don't even carry silverware!
Now that you understand the process, here are the top four BBQ restaurants in Texas. Fortunately, all four are within an hour's drive from Austin (which you can fly into).
#4: Snow's BBQ Lexington, Texas
Voted 2010's "Best BBQ" by
Texas Monthly
magazine, Snow's serves up small-town charm along with fantastic dishes. The pork shoulder and brisket are among the best I've tasted, though the sausage was too dry to eat (could've been a bad day; even the staff noted this). Snow's is only open from 8 a.m. to 12 p.m. on Saturday. That's right, they're only open four hours a week and by 8:15, there's a line out the door.
Best dish:
beef brisket (honorable mention: pork shoulder)
#3: Cooper's BBQ Llano, Texas
A Texas favorite for years, Cooper's unique mesquite flavor is the results of patience. Meats can be cooked for over 36 hours in 12 different pits (heated to different temperatures). Their menu is more extensive than most BBQ joints, and include prime rib, ribeye steaks, and chicken; though the pork chop is easily the best in the state.
There's no need for silverware here; slow-cooking ensures all of Cooper's meats can be picked apart with your fingers.
Best dish:
pork chop (honorable mention: prime rib)
#2: Smitty's Lockhart, Texas
For BBQ fans, Lockhart is the Hall of Fame. This small town boasts not one but
two
world-class BBQ joints. Thanks to a family argument in 1999, the best BBQ joint in Texas split in half and Smitty's was born. To say Smitty's is "old-school" is an understatement; the family recipes (and furniture by the look of it) date back as far as 1900. Smitty's offers ribs, brisket, lean beef, and sausage.
Best dish:
brisket
#1: Kreuz Market Lockhart, Texas
Almost identical to Smitty's (same family recipe), Kreutz Market wins this competition by a hair, thanks to its world-class ribs. It's also cheaper than Smitty's (which charges for pickles!). Kreuz Market also serves the best beans around.
Best dish:
ribs (the best, ever)