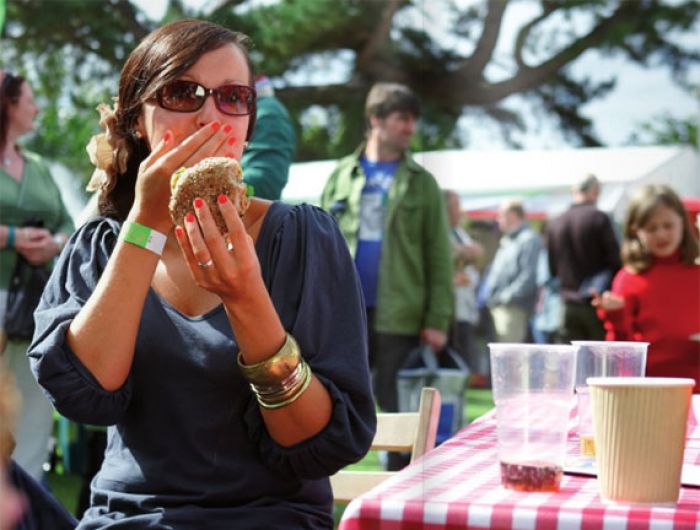 Photo Credit: Karin Leperi & Wales Tourism
As far as culinary culture goes, I wasn't quite sure what to expect on my recent trip to the border towns of Wales. Having never been there before, I imagined it would be a strong blend of British blandness and perhaps, a touch of country flavor. Turns out, I was only half right – right about the quality and freshness of Welsh cuisine; wrong about Welsh food as being branded insipid and lacking zest.
Welsh Breakfast on the Farm
After an overnight flight from Washington, D.C. to Manchester, England, my first food adventure in Wales was a traditional Welsh breakfast. Greeted at the airport by my knowledgeable guide, Idwal of Country Lane Tours, I was then whisked away to Hawarden Estate Farm Shop. Just over the border from Chester and less than an hour's drive from Manchester, this farm estate has produced great organic products for years and recently opened up a restaurant and shop that attracts a huge number of people from far and wide. Hawarden Estate easily delivers some of the tastiest farm fresh eggs, sausage, bacon and local produce: my brimming plate was a tribute to their quality and farm freshness.



FULL WELSH BREAKFAST:
Traditionally Cured Bacon, Homemade Pork Sausage, Ramsays Black Pudding, 'Nant Ucha' Fried Field Mushrooms, Fried Tomatoes *** Doorstep Toast with a Choice of Homemade Jam or 'Pant Glas Bach' Marmalade *** Tea and Coffee

Though I was famished, and frankly more than willing to compromise taste for bulk, it was not necessary. Taste oozed with every morsel and bite. The mushrooms were so succulent, I even asked for a second helping.


A few cautionary notes are in order for those unfamiliar with Welsh cuisine. Be forewarned that black pudding is not the sweet pudding dessert of the United States. Savory rather than sweet – otherwise known as blood sausage – this is typically a dark sausage seasoned and cooked with fillers, stuffed with animal blood, and congealed until solid. Only Welsh ingredients are used in making Welsh black pudding.

Also, be forewarned that spicy Welsh dragon sausage may not contain real dragon meat: Rather, it is made with a combination of pork, chili, and leeks. (I hear dragon meat is scare). Definitely one of the tastiest sausages I have tried and with a tad of "dragon" fire, Welsh dragon sausages are available for purchase.


Traditional Lunch Fare in a Corn Mill
After a drive through the Clywedog Valley, we head to the picturesque town of Llangollen – famous for its river and vale as well as for hosting the annual Internal Musical Eisteddfod. Every July, people from around the world flock here for acoustic merriment – for singing and dancing in the street.


Llangollen also has one of eight great little trains of Wales, and is a "must do" for any train aficionado. After a nostalgic ride on the Lllangollen Steam Railway along with commanding views of the verdant countryside, we then head for lunch at the Corn Mill, a popular pub along the River Dee.

This is a culinary cultural experience – one of those boxes you need to check off in the name of culinary tourism in order to soak up the local ambiance, history, and food. Plus, it's just plain fun to watch the crowds squeeze in at lunch time to sample the fare. The current building dates from 1786 and was used as a flour mill until 1974. While not fine dining, you will still find plenty of excellent traditional fare and brew to warrant the stop. Why, the Corn Mill even serves up real ales.

For starters, I share a plate of local asparagus wrapped in parma ham and follow it up with a traditional leek potato soup with chunky bread. For my main, it's pork and leek sausages with creamy mash and onion gravy. I finish this off with Barabrith bread and butter pudding with apricot sauce and vanilla ice cream. (Barabrith is a traditional Welsh bread speckled with currants and glazed with honey).

After our lunch of traditional fare, we then head toward the Pontcysyllte Aqueduct, the country's biggest navigable aqueduct and a world heritage site. The aqueduct is quite a feat – spanning the River Dee at 126 feet and supported by 18 stone piers. As I look out over the expanse, my legs feel a bit wobbly from the height. I feel more secure once I am on the motorized Canal Boat. For an hour, we sail through the lovely green vale of Llangollen.

Fine Dining in the Country on Welsh Black Beef
For the evening, we head for The West Arms, a country retreat in the quiet village of Llanarmon Dyffryn Ceiriog, yet one that has international appeal. (Though many of their regular guests are from Great Britain, many also hail from as far as mainland Europe, Australia, Canada, and the States.) Located at the intersection of two rural roads in the foothills of the Berwyn Mountains, this 16th century residence-turned-hotel has a wealth of country charm. From ancient timberwork and period furniture to partaking of tea and Welsh cakes by roaring log fires; the place feels cozy, yet does so with a comfy touch of elegance.


The West Arms is widely known for its fine dining scene: Grant Williams is the award-winning chef on the premises. His credentials are impeccable and include cooking for Prince Charles, working in New Zealand, and appearing on several cooking shows as well as acquiring a host of dining awards for the hotel. Chef William's menu features fresh, local produce whenever possible and it is prepared to the highest of standards.

That evening, I find myself easily mixing with guests, immersed in friendly conversation over glasses of wine and plates of fruit and local cheeses. Time slips by effortlessly. Before I know it, dinner presents with several choices: I decide to try the world famous Welsh Black Beef – a meat known for its tenderness and flavor, as well as natural marbling. Served with fresh local vegetables, I find it a fitting choice to round out my culinary day in Wales.

From breakfast to dinner, Welsh food and drink abounds in freshness and flavor, and will scintillate the palate of any culinary traveler. It's a secret worth sharing.

This post originally appeared at CityRoom.com.