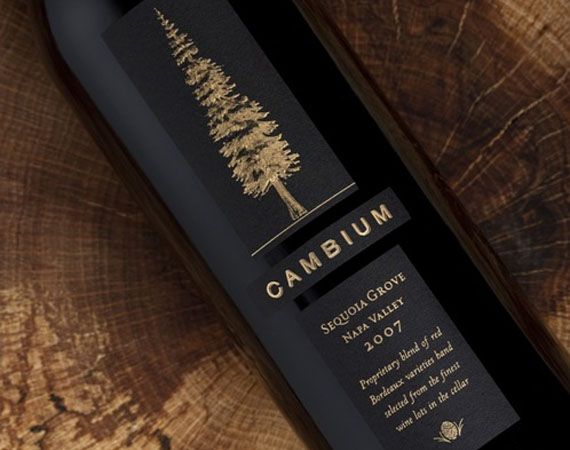 Photos Courtesy of Sequoia Grove & Restaurant Report
We follow the big wine trends and regularly jetset to various wine regions across the globe, but one of our favorite things to do is find fabulous discoveries right here at home in the U.S. That's why we're letting you in on a little pre-sale wine secret. In September, one of our favorite boutique, family-owned
wineries up in Napa
, Sequoia Grove, will be releasing its inaugural vintage of a wine called Cambium.
Cambium is a limited production red blend with a Cabernet Sauvignon base that pays tribute to winemaker Michael Trujillo's thirty years in the wine industry, and which is sourced from what he considers to be the best individual vineyard blocks he works with.
The grapes were harvested in 2007 from the best blocks in six different vineyards that Sequoia Grove draws from, and include not only Cabernet Sauvignon from five of them, but also Merlot, Cabernet Franc and Petit Verdot to comprise a true red Bordeaux blend. Demonstrating a paramount level of care, clusters were hand-picked and sorted, given a two-day cold soak, inoculated with specially chosen French yeasts, and fermented in small batches before being assembled into the final blend. The wine was then aged for 22 months in French oak, then bottled and aged an additional two years.
The final product is inky dark red in color with signature notes of cassis and dark berries, as well as deeper tastes of chocolate, mocha, tobacco, vanilla and a hint of black licorice. While showing robust flavors, the wine doesn't pack a too-strong alcoholic wallop, and maintains a finesse on the palate that dissipates in a long, pleasant finish. The winery is only producing 350 cases of the vintage, and suggests cellaring for up to 15 years.
The Man Behind the Wine
Michael Trujillo himself has a classic Napa story. He started at Sequoia Grove while still a student at Colorado College in 1981, working side by side with the vineyard manager, and learning winemaking in the cellar from Sequoia Grove founder and winemaker Jim Allen as well as legendary wine consultant Andre Tchelistcheff. By 1998, Trujillo himself was winemaker, and in 2001, he became President and Director of winemaking at the winery.
Cambium came about in 2007 when Trujillo finally felt the time was right to make a blend of the year's most outstanding fruit, and though a new release, its raison d'?tre hearkens back to classic European winemaking traditions, says Trujillo. "Cambium is our way as winemakers and producers of expressing everything about that vintage. Our style here lends itself to the influences of each vintage. Similar to that of Europe in the past decades."
What's in a Name?
The name Cambium refers to the layer of living material on the sequoia that propagates growth, the living soul of the great trees on the winery's property. "The cambium imprints the memory of the vintage and the grapes, and that's what I want in the wine. Each bottle holds the memory of the season," explains Trujillo.
To commemorate each vintage, Sequoia Grove will commission leading artists to create signature artworks for each vintage as part of the Cambium Artists Series. The series will debut with a photograph of the California redwoods on Sequoia Grove's estate by renowned nature photographer Art Wolfe. Limited-edition signed prints will be available for purchase by the first 200 Cambium six-pack subscribers.
Individual bottles of Cambium will be priced at $99 for pre-purchase, and then will cost $140 upon release in September for purchase on Sequoia Grove's
online store
or at the winery. A portion of the proceeds will be donated to the Sequoia Parks Foundation to support tree restoration initiatives in keeping with the winery's longtime participation in the program.
Nothing like toasting to a good cause with a great bottle of wine.