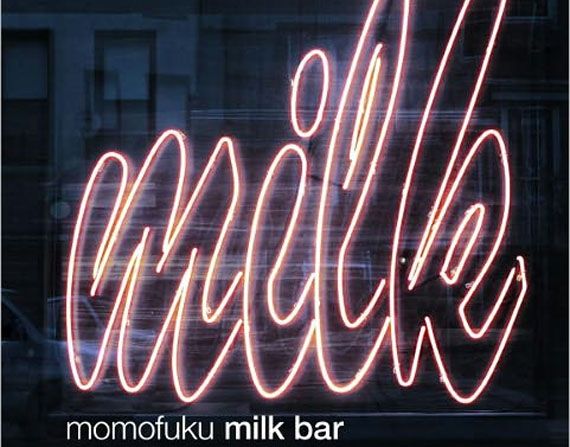 Photo Courtesy of Barnes & Noble
In order to truly embrace Christina Tosi's dessert genius you need to check your adult pastry pretensions at the door and embrace your childhood love of all things sweet. You have to be willing to accept Fruity Pebbles as an ingredient. Tosi, the mad genius behind the taste sensation known as Crack Pie is a big part of the success of David Chang's Momofuku empire. Milk Bar has served as a lab for all sorts of sweet experiments and it has become one of the hottest spots in New York City for urbanites with a serious sweet tooth.


The recipes are a rare mix of prefab ingredients and advanced techniques. It's not exactly molecular gastronomy but similar thinking is at work— a deconstruction of the ordinary fare into its parts which are then reassembled in novel way. A simple bowl of breakfast cereal becomes cereal milk panna cotta with cornflake crunch and fresh fruit. Peanut butter and jelly finds a new form as an elaborate pie that gives you a similar taste profile but with new textures. It becomes at times a bit precocious, the birthday cake crumb cake, for example, tries too hard to recapture the youthful excitement of a supersweet confetti-studded party. Tosi's muse is the memory of her 10-year-old self and her prodigious sweet tooth. Tosi's taste profiles are pure id, super sweet treats pair with salty or crunchy components.

Tosi's magic isn't always in the composed masterpiece desserts in the book which are sometimes almost too idiosyncratic and personal. Her chef chops really shine when she makes something quotidian like chocolate sauce into a treat that is both child-friendly and yet appealing to more sophisticated palettes. The recipes for the components of her deserts are very well-rendered and are building blocks meant to inspire further creativity. At times she is as much a chef explaining a recipe as she is also a scientist of sweet. Many recipes began as hypotheses and the instructions also include explanations of the choices made. At times the book is as much food journalism as it is a cookbook and so it will appeal even to foodies not willing to take on Tosi's recipes. But there's great merit in trying at least a few of the recipes, to take on one of her creations, especially one of her mother recipes, is to get just a taste of the delicious sweetness of Milk Bar.


The cookbook is available October 25, preorders may be placed now through
Barnes & Noble
.