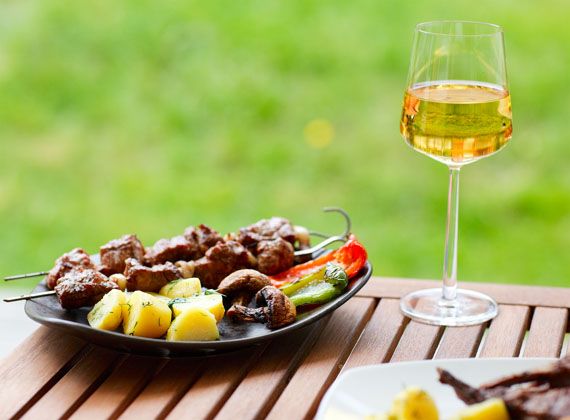 Fire up the grill and take a foodie tour of Lake and Mendocino Counties (of
Northern California
) with wonderful recipes and wines from these renowned and very delectable wine regions.
Shannon Ranch BBQ Lamb With Pineapple Salsa
COURTESY OF LAKE COUNTY'S SHANNON RANCH AND SHANNON RIDGE WINERY
1 leg of lamb (5 to 6 lbs)
or
1 rack of lamb
Marinade
1 cup pineapple juice
2 Tbsp white wine vinegar
2 Tbsp soy sauce
1 Tbsp fresh ginger, grated
2 Tbsp honey
2 Tbsp peanut or sunflower oil
? tsp cayenne pepper
Pineapple Salsa
? small pineapple, skin removed
1 large red chili, finely chopped, seeds removed
1 small bunch coriander, chopped
Juice of 3 limes
Salt, freshly ground black pepper
Lamb:
Place lamb in a large ceramic dish. Combine all marinade ingredients in a bowl and then pour over the meat. Cover dish and refrigerate for two hours. The pineapple juice tenderizes and flavors the lamb. Preheat barbeque. Grill lamb over medium heat for 20 minutes on each side, basting occasionally with the remaining marinade. Remove meat to rest and keep warm for 10 minutes before slicing thickly.
Salsa:
Finely dice the pineapple. Combine all ingredients in a bowl and season to taste with salt and pepper.
Pairing:
2009 Shannon Ridge Ranch Collection Petite Sirah. Serves 8.
Jerk Turkey Burgers
COURTESY OF LAKE COUNTY'S BRASSFIELD ESTATE EXECUTIVE CHEF JOHN ADAMSON (seen here) NAPAVALLEYCHEF.COM
1 lb ground turkey
1 egg yolk
2 Tbsp jerk seasoning
4 hamburger buns
? cup mayonnaise
4 lettuce leaves
4 tomato slices
4 red onion slices
salt and pepper to taste Combine ground turkey, egg yolk, and jerk seasoning in a stainless steel bowl and mix well. If using a 'dry' seasoning blend, look to see if salt has been added to the spice mix. If it has not been added, add 1 ? teaspoons of salt per pound of meat. Form into four patties and grill slowly over a wood or charcoal based fire until done. Build hamburgers with remaining ingredients.

Pairing: 2006 Brassfield Estate Zinfandel, Round Mountain Vineyard. Serves 4.

Grilled Flank Steak Sandwiches
COURTESY OF MENDOCINO COUNTY'S HUSCH VINEYARDS
2 cups Husch Cabernet Sauvignon
? cup olive oil
1 small onion, grated
2 cloves garlic, peeled and smashed
2 lbs beef flank steak
4 medium onions, thinly sliced
1 Tbsp butter
1 Tbsp olive oil
1 tsp salt
? tsp pepper
1 tsp sugar
4 sour French rolls
? lb soft blue cheese (e.g. Gorgonzola or Cambozola)
Season flank steak with salt and pepper and put in a Ziploc bag. Combine the first four ingredients, pour over flank steak, and marinate in sealed Ziploc for several hours.

Heat the butter and olive oil over low heat in a large skillet. Add the onions and seasonings and stir to coat. Cover and cook about 10 minutes, until the onions are soft. Uncover and cook slowly until the onions are browned, about 45 minutes. This can be done ahead; reheat before serving.

Light coals and grill the steak over a medium fire to desired doneness. Slice the rolls and toast over the fire. Place slices of cheese on top half of each roll and grill, covered, until melted. Slice cooked steak thinly against the grain and divide among the bottom half of each roll. Top with caramelized onions and top half of roll.

Pairing: 2007 Husch Cabernet Sauvignon. Serves 4.

Grilled Pork Chops with Mission Fig Chutney
COURTESY OF MENDOCINO COUNTY'S LITTLE RIVER INN AND EXECUTIVE CHEF MARC DYM

4 10 oz center cut pork loin chops (seasoned with Kosher salt, black pepper, Lawry's seasoning, and grilled on low fire until desired doneness)


Fig Chutney
8 ripe Mission Figs
1 Tbsp canola oil
1 onion, sliced
? cup ginger (peeled and finely chopped)
? cup orange juice
1 Tbsp brown sugar
1 tsp ground coriander
1 tsp ground cumin
1 tsp curry powder
Grain Mustard Pork Sauce
? lb butter
1 onion, sliced
? cup white wine
1 tsp thyme
4 bay leaves
2 qts pork or chicken stock
2 Tbsp whole grain mustard
salt and pepper to taste
Fig Chutney: Remove stems from figs and cut in quarters. Sauté onions and ginger in oil 2 to 3 minutes. Add remaining ingredients. Simmer 15 minutes.

Grain Mustard: Sauté onion in butter until golden brown. Deglaze pan with white wine. Add spices and stock and reduce by half. Strain reduced sauce and finish with whole grain mustard. Pour mustard sauce over each chop, then top with a spoonful of chutney.

Pairing: 2006 Londer Vineyards Parabol Pinot Noir. Serves 4.

MORE PAIRING PICKS
Here are some distinctive Lake and Mendocino County wines suggested by our chefs and Touring & Tasting staff:
2009 Beaver Creek Cabernet Sauvignon, Horne Ranch
2007 Greenwood Ridge Pinot Noir
2007 Langtry Serpentine Meadow Petite Sirah
2007 Maple Creek Largo Ridge Zinfandel
2004 Milano Carignane
2008 Moore Family Estate Wildfire Zinfandel
2007 Rack & Riddle Zinfandel
2007 Six Sigma Tempranillo
2007 Standish Estate Pinot Noir
2006 Terra Sávia Meritage
2008 Tulip Hill Lake County Petite Sirah
2009 Vigilance Cimarron