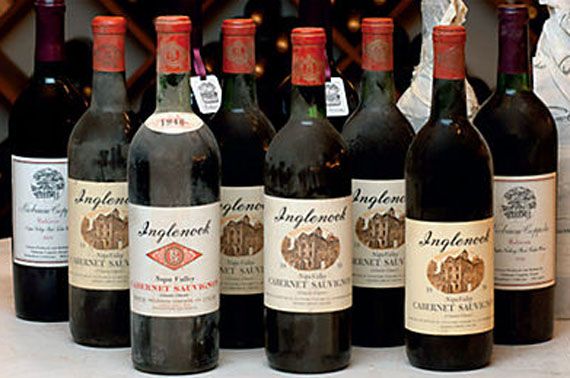 Photo Courtesy of Christie's
Francis Ford Coppola is now known nearly as much for his love of wine as his movies. Back in April, Coppola bought the Inglenook winery name with the stated goal of restoring the property he already owns "into America's greatest wine estate." At Christie's New York on September 24, he will auction off some of his prized wine collection including two bottles of what made this wine a legend - the famed 1941 Inglenook and a rare bottle of the 1935 vintage.
The Inglenook legacy is deep in the roots of
Napa Valley
. In 1879, Inglenook founder Gustave Niebaum promised to make wines to rival European vintages. From 1933 to 1964 legendary winemaker John Daniel created wines which represented the early flowering of the Napa tradition of wines that can compete on the global stage. Coppola bought his first piece of Inglenook property in 1975 and has invested a substantial amount of money in creating what was called Niebaum-Coppola but is now called Rubicon Estate.  
All of the wines in this offering were acquired by Coppola when he bought the estate and have remained in peaceful seclusion for decades. Successful bidders on Coppola's prized bottles at Christie's will receive a handwritten note from Francis Ford Coppola along with a custom-made wooden box designed specifically for this sale.
The 1935 vintage from the "Golden Era" of John Daniel Jr. wines carries an estimate of $600–$800. A two-bottle lot of the celebrated 1941 Inglenook Cabernet Sauvignon is estimated to fetch $8,000–$12,000. The 1941 stands toe-to-toe with French greats such as the 1945 Mouton-Rothschild and the 1961 Latour. Another intriguing offering is a vertical of 12 key vintages from the years 1946–2008 presented in a bespoke wooden case signed by Coppola (estimate: $3,000–$4,200).
Proceeds from the sale of this special lot will be donated to Shigeru Ban Architects + Voluntary Architects Network, a charity that helps to build temporary housing for tsunami victims in Japan. Visit
Christies.com
to learn more.