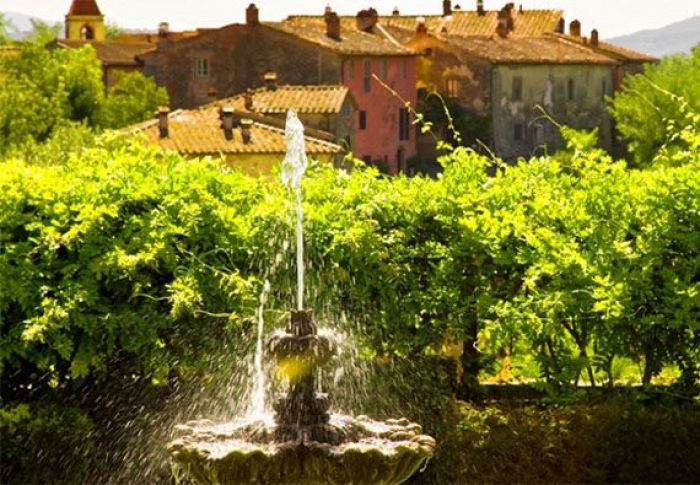 Photo Courtesy of Il Borro Winery
The Salvatore Ferragamo name has long been associated with careful craftsmanship, especially in the art of shoemaking. The family has since expanded their love of the finer things in life to winemaking, with the Il Borro Winery in the
Tuscan region of Italy
.
In an interview with LaIsla.com, Salvatore Ferragamo shared his inspiration for starting the Il Borro Winery, including reviving a historic part of Tuscany while making wine from some of the region's most fertile soil.
Purchased in 1993, Il Borro grows a great variety of both Italian and international varietals, and also gives guests a chance to stay at the beautiful vineyard. Il Borro hosts guests as well as offers a restaurant and accommodations for special events such as weddings. But the wine has become a favorite with connoisseurs around the world, thanks to the Ferragamo emphasis on excellence.
The Il Borro estate grows Merlot, Cabernet Sauvignon, Syrah and Petit Verdot along with Sangiovese and Chardonnay under the careful supervision of Nicol? D'Afflitto. To best enjoy the wines, it would be a wonderful trip to experience them on the property, which offers restaurants and tastings, and lavish accommodations. But through a new partnership with
Fleming's Prime Steakhouse & Wine Bar
, the new private label wine, Forty-Six Diamonds Toscana 2009 is available stateside.
Forty-Six Diamonds Toscana 2009 is a collaboration between Fleming's Wine Director Maeve Pesquera, Il Borro Winery Proprietor Salvatore Ferragamo and Winemaker Nicol? D'Afflitto to pay tribute to the estate's flagship blend, Il Borro. The new blend is the latest vintage of Forty-Six Diamonds, a celebration of Tuscany's famous grape, Sangiovese.
"This is a wine with solid structure crafted on noble tannins and complemented by spices and a core of sweet red and blue forest fruits," says D'Afflittoto. For more information, visit
IlBorro.com
.