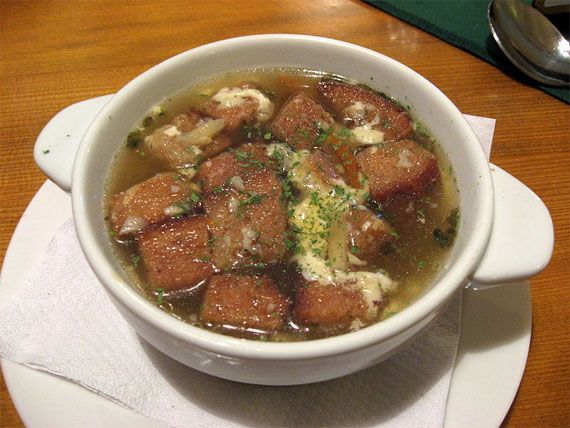 Photo Courtesy of Dezidor
The
Czech Republic
's culinary scene is noted for its hearty comfort food featuring lots of meat and high carb foods. This is not light dining, but it is delicious. You won't find the average Czech sitting in a café sipping Pinot Gris and nibbling at a crab salad. So when in the Czech, indulge a bit and enjoy the robust dishes.
Actually when you look at it what the Czech people eat is not so different from the American South. They eat lots of pork, supplemented with beef and chicken. Czechs also enjoy game meats like duck, rabbit and lamb. Most meals start with a delicious soup and continue with main dishes that include dumplings or gnocchi-type noodles. The dumplings called knedlíky are made of wheat or potato flour that is boiled as a roll and then sliced before serving. Cabbage is a favorite and sauerkraut is plentiful. After a traditional Czech meal, hunger should be a distant memory.
Try this traditional Czech soup. Consider it a lighter menu item – a yummy prelude to a larger lunch or dinner. A Czech favorite, Cesnecka is a thin garlic-laced broth containing small pieces of potato, served with fried bread cubes. Sometimes it is served with small chunks of ham, sometimes with no meat.
Ingredients
8 cups water or broth
1 Tbs salt
6 cloves garlic
1 tsp marjoram
4 slices of dark rye bread
1 tsp caraway seeds, crushed
2 medium potatoes, diced
1 tsp fresh black pepper
2 Tbs butter
2 Tbs fresh parsley, chopped
If you like – Cooked ham – good quality – cut into cubes
Monterey jack or Parmesan Cheese cut up into small cubes
1. Mash the garlic with the salt: do this either with a mortar and pestle, or use a garlic press to crush the garlic and then mix in the salt.
2. Place the garlic and salt in a large pot and add the water or broth. Slowly bring the water to a boil, reduce heat and keep on a simmer. Add the crushed caraway seeds, potatoes, (ham if you like) marjoram, butter or lard, and ginger. Simmer, uncovered, till the potatoes are tender, about 15 minutes. Add freshly ground black pepper and some more salt if needed.
3. Fry the slices of bread in bacon drippings or butter till golden brown. Cut into tiny cubes. Place bread in each soup bowl and ladle the garlic soup over it. Add a few cubes of cheese. Sprinkle on parsley.
This post originally appeared at
CityRoom.com
.