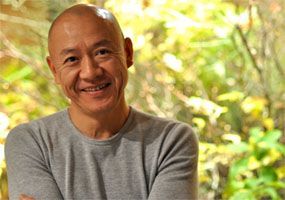 Photo Courtesy of Vdara Hotel & Spa
If he wasn't a chef, Masa Takayama might have been a poet. While English isn't his first language, the legendary
Japanese sushi master
whisks words and phrases together with the same quicksilver flair we imagine him using in the kitchen. His is a world of rarity, artistry and whimsy — and unlike his ultra-expensive table, thoughts from Masa are free to enjoy. We hope you will, as much as we did.
JustLuxe: What's the furthest length to which you've ever gone, in order to get a special ingredient?
Masa Takayama:
Dried sea cucumber eggs are a famous ingredient, but very expensive, and hard to get good quantities of. They come from Japan of course — the Toyama prefecture. Only in the wintertime can the fishermen catch them, and then dry, hung up. It takes a couple months. That's what I use in my salted seaweed julienne.
JL: Where do you find inspiration for the dishes on your menu?
MT:
I see a picture first, and that picture, I'm going to bring into the food. Four years ago I was in Central Park, smoking a cigar, relaxing, and all the leaves had fallen off a tree; a brittle branch came out and up. That brittle branch I bring into my food. That branch brings me that white truffle and trigger fish, salted seaweed julienne, microgreens all mixed. Microgreens are like the small green leaves left on a tree, you know. That kind of idea.
Or, you know, this is a different thing, but last time I went to the Metropolitan Museum,
Alexander McQueen exhibit
. McQueen made a razor clam dress that was so beautiful. So amazing: the color, the texture. Totally different. That dress gives me a lot of different ideas.
JL: Your cooking is intricate and seems like it takes a lot of thought. Yet you've called your kitchen "your relaxed place." What about it relaxes you?
MT:
I don't think about anything, you know. The only thing I can focus on is all the different ingredients. Actually the ingredients are my teachers. They tell me, "Hey Masa, cook me this way, that way. I want to be changed that way." I talk to ingredients every day. Sometimes I dance with them too. (
Laughs
) That's why one of my dishes is called Dancing Shrimp. The shrimp teach me how to dance.
JL: What are the three key elements necessary to create a perfect gastronomic experience? This can be anything at all — decor, ingredients, service. They can be small or huge.
MT:
Visually beautiful, the eyes see, the presentation. Then, smell it. Then eating. All the texture, the acidity, everything combined to melt in your mouth. Those are the three things, I think.
JL: So you're saying if you have all three things together — the perfect visual, perfect smell, and taste — then you don't need anything else? Because I was saying you could include any three, including ambience. But only three. So if you are saying ambience contributes, you have to take away one of the others. But are you saying that if you have those three things: visual, perfect smell and taste, then you don't need anything else? You could serve it on top of a rock, or under a freeway overpass?
MT:
I think so, yes. Those three things are attractive enough. Wherever they are, people can enjoy them. So many times, you can be in a beautiful ambience, but the food could suck, you know? I love food, and I believe in the food. So those three are the most important things to me. (
Thinks for a minute
) I think I could serve outside too: my food next to the freeway, and people would appreciate that...Although I don't know if I could charge them $500 or not.
JL: You should try it — I bet you could. A Masa installation under a freeway overpass...it could be the next big thing. (Uproarious laughter from all)