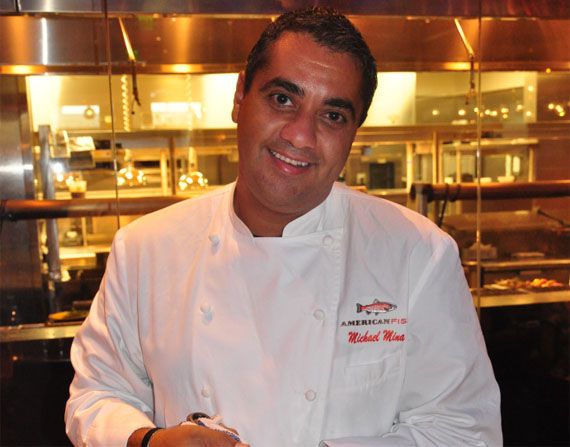 Once the poster boy for dotcom-era Bay Area expense account dining, Michael Mina has proven to have more tenacity — and a better ability to "diversify a portfolio" — than most of the flash-in-the-pan millionaires that frequented his first flagship restaurant, Aqua, in the late 1990s. 
He's teamed up with hotel partners and sports figures (Andre Agassi was an early investor), ventured away from seafood to open steakhouses and upscale gastro-taverns, and expanded into a dozen other markets beyond San Francisco throughout the past 15 years. With a new venture, Wit & Wisdom Tavern, opening at the Four Seasons Hotel Baltimore in November and a 2011 "Restaurant of the Year" award from
Esquire
for his eponymous San Francisco flagship, Mina might be a man on the move; but he's also rock-solid in his original market. We missed him by 15 minutes at the
Food & Wine All-Star Weekend
in Las Vegas, but tracked him down a week later to secure this Q+A.
JustLuxe: You first rose to fame with high-concept seafood at Aqua, and though you've diversified over the years, you always return to seafood even though it's not as easy as steak, or as trendy as, say, pork belly. So tell us, what is your favorite thing about fish?
Michael Mina:
There are so many species of fish that the possibilities are unlimited! So many different techniques that can be used to cook it, so many flavor profiles to work with, and a great assortment of textures.
Click here to get Chef Mina's surprisingly simple recipe for salt-baked Branzino.
JL: Different restaurants of yours have different signature dishes, and those dishes sometimes change with the times. Is there any dish in specific that is, in your opinion, eternal?
MM:
Based on customer feedback and popularity, I'd have to say tuna tartare.
JL: What do you love the best about your career?
MM:
The best part is the gratification that you give people through dining memories and experiences. And food breaks all of society's barriers in that it's something that everyone has in common — so it's great to be a part of that.
JL: What's the biggest challenge?
MM:
Never enough hours in the day!
JL: What inspires you?
MM:
The change of the seasons is always a source of inspiration for me! Summer the most because there is so much available at your fingertips.