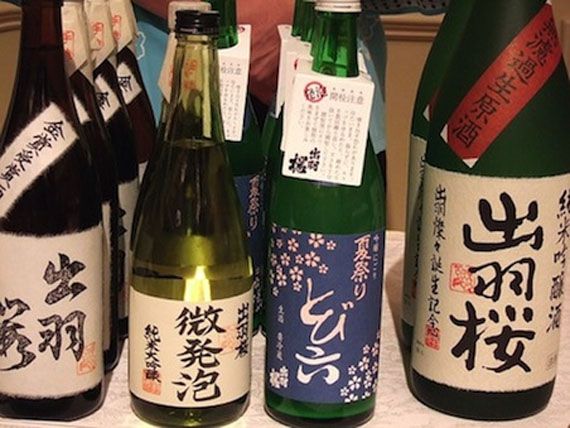 Photo Credit: Flickr/tokyofoodcast
Top picks from the 11th annual Joy of Sake tasting event in New York City
At the recent 11th annual Joy of Sake tasting
event in New York City
, attendees had the opportunity to taste more than 300 of the best sakes in the world. Showcasing all of the sakes awarded gold and silver medals by the U.S. National Sake Appraisal, a panel made up of the most notable sake aficionados in the world, the event is dedicated to highlighting the complex and defining flavors that make sake a drink worth savoring.
Sake can be broken up into many different sub-categories, each of which were represented by the very best of their respective families, from daiginjo to junmai. From those, we've compiled a list of 15 favorites — ranging from very dry to very fruity, each one showing how unique sake can be.
While this may be a list of our favorites, sake, like wine or beer, is about finding the flavors and styles that best suit you. Are you a no-nonsense, dry daiginjo; or are you a fruity, fun junmai? Does the occasion call for a more expensive variety like daiginjo (the rice used to make these is usually more polished, giving it a more refined rice flavor), or a less expensive nigori (a "cloudy" sake popular in the U.S.)?
Start by checking these highly recommended brands, and be sure to branch out and find a corner of the big world of sake to call your own.
Born Tokusen Junmai Daiginjo:
(right) A semi-dry, aged sake with a very pleasant, smooth mouthfeel, and a fragrance of grapefruit and cherry blossoms. Overall this is great sake for enjoying after a meal.
Masumi Yumedono Daiginjo:
This daiginjo, like many others, has a very smooth mouthfeel created by the somewhat high alcohol content. More on the sweeter side of the typically dry daiginjos, with hints of melon. It finishes easily and invites another cup.
Masumi Sanka Junmai Daiginjo:
This herbaceous sake has a fantastic texture and taste, blending a delicate crispness with a smooth aftertaste. It's a great choice for people who are new to sake and want to try something good and easy to follow.
Shusen Eiko Junmai Ginjo 50:
This delicate sake has an unbelievable texture that's so smooth and effortless it borders on creamy. The crisp fruity notes that go along with it make it a truly unique experience.
Kakurei Junmai Ginjo:
The first thing you notice is the delightful, lightly floral aroma, then the strong taste of pear and even banana in the body, with a finish that leaves a slight taste of toasted rice.
Tsuki No Katsura Asahimai Junmaishu:
This junmai has a unique, unoffensive dryness (as opposed to other junmai that tend to be sweeter), and a fantastic aftertaste of toasted rice and caramel.
Kotsuzumi Tokubetsu Junmai:
This sake is very complex — floral on the nose, with a soft, full-bodied mouthfeel that slowly turns into a dry finish. The taste is a very pleasant mix of resin, caramel, and rice. This sake's texture, however, is what really shines.
Sho Chiku Bai Classic:
(left) Here we have a smooth, mellow sake with a dry aftertaste. The flavors in the Sho Chiku Bai are very subtle, and range from autumn fruits to spices and honey.
Matsunoi tokubetsu Junmaishu:
Matsunoi is definitely one to try, especially for the consistency. The delicate, clean fruitiness of the glass only complements the unique mouthfeel of the sake, which recalls fresh spring water and leaves the person drinking it feeling quenched.
Kurosawa Junmai Kimoto:
Clean, crisp, and delicately sweet are all good words to describe Kurosawa Junmai Kimoto. The dryness of the sake is very obvious, as is the fragile sweet-straw scent. Some connoisseurs even recommend warming this sake up to taste the more "roasted" notes.
Tedorigawa Yamahai Jikomi Junmaishu:
Very dry and sharp, this sake walks the line between crispness and harshness without ever losing its smooth mouthfeel. The light sweetness and high, glossy alcohol content make this a great sipping sake.
Koshi No Kanbai Muku:
Koshi No Kanbai Muku has a very firmly balanced taste with just enough sweetness to level out its dry, sharp taste, and a lasting crisp finish that most wines would kill for.
Masumi Okuden Kantsukuri Junmai:
(right) Masumi, from the famed Mount Kirigamine in Nagano, is a subtle sake that has been expertly crafted by generations of sake brewers. It has a subtle fruit aroma with a rich body that tastes of slight sweetness and melons.
Tenzan Jizake:
This is intensely strong Jizake made in Kyushu's Saga Prefecture contains a brawny alcohol content of 18 percent, a noticeable acidity, and just enough sweetness to balance it all out. There is also a powerful rice flavor that combines to make this a great sipping sake.
Yuga Junmai Ginjo:
The crisp, clean texture of this sake is very appealing, giving it a nice drinkability. The taste is sweet and full-bodied, thanks to the rounding effects of the alcohol content. The finish is very mellow, creating a good sake to sip while eating.
More from our friends over at TheDailyMeal: