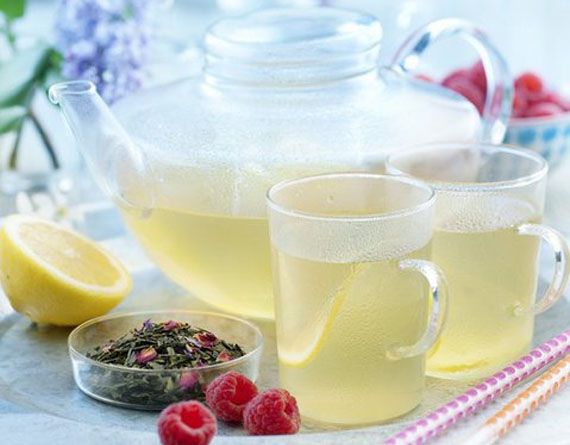 Photo Courtesy of Les Palais des Thés
The French
tea company
Le Palais des Thés owns the savoir-faire when it comes to tea making. For those who enjoy teas, this incomparable quality is in a class of it's own. Their discriminating taste only allows for the finest ingredients found in remote plantations around the world. If you are not a tea aficionado, simple education of these will turn you into one.
Just in time for the holidays, and new to the U.S. this year, I welcome and share with you the best tea in the world, Le Palais des Thés! The French have a knack for producing and enjoying the finer things, which is why I'm a Francophile. Le Palais des Thés is an example of this refined quality for tea lovers. "The Paris-based team of tea tasters, or tea oenologists, create Le Palais des Thés' exquisite flavors, operating much like master perfumers," states Aurelie Bessiere, president for the company's U.S. division based in New York.
Bessiere describes to me the journeys to Japan, Sri Lanka, Nepal, and India: "Last year I had the pleasure of visiting Darjeeling with the team and plan to join them next April in China." The unheard of devotion by founder Francois-Xavier Delmas travels with his team every year for six months "to over 20 countries to find rare crops by visiting small plantations in remote locations," proudly says Bessiere. Once selections have been made, "we spend one to two years of development time to create each of our signature flavored tea blends, using all natural ingredients (fruits, flowers and spices)." Unequivocally, an extraordinary commitment to grandeur!
If you were not already aware, being a tea connoisseur is much like being a wine enthusiast, a gourmet, or other things one might become fanatical about. It is part of a lifestyle enriched by enjoying experiences and the finer things. Bessiere explains to me that tea pairing is much like, what we more commonly hear, wine pairing. "It adds another whole layer of taste experience to have the perfect tea matching your favorite foods.
Be it a piece of chocolate cake with our Thé des Moines or a fresh muffin with our Thé du Hammam, we believe that teas can pair successfully with a wide variety of foods and meals just as wines do."
Wanting to indulge, or find a
unique gift
for someone who has it all? Try their Jukro tea at $130 per 3.5 ounces. It is a limited edition, "and our customers are happy to pay for exceptional teas with complex aromas like this one," describes Bessiere, "which are available in very limited quantities only at certain times of the year." This would explain the comparison to superior wines. "Like fine wines, these teas are never exactly the same from one year to another, which tea connoisseurs appreciate!"
However, there are numerous selections to be made at Le Palais des Thé at more affordable luxury prices. "For those looking for a true taste of Christmas, we are offering the limited edition Thés N° 25: a collection of teas scented with vanilla, almond, cinnamon, ginger, orange and lemon zests. It's perfect for those cold nights in front of the fire with friends and family. The teas are packaged in special Christmas gift tins which are $29 each." Try Thé N°25 in the mulled wine recipe below for a more festive concoction!
My personal favorite is the Fleur de Geisha blend that is refined Japanese green tea and "delicately flavored with cherry blossom." The smell is as lovely as its name, and makes the most perfect hostess gift in a beautiful Washi tin for $30. Another reason why it is a favorite is when used in this delicious aperitif recipe below. A perfect drink for a New Year's Eve party!
To complement the essence of all Le Palais des Thés be sure to explore their candles, other gift sets, and
The Tea Drinker's Handbook.
Written by founder Delmas and associates, the book "reveals the keys to the art of tea tasting, essential tips preparing infusions, and their choices of the world's fifty best teas."
Fleur de Geisha Sparling Aperitif
Infuse 3 tea bags of Fleur de Geisha tea in 10 oz. simmering water for three minutes.
Remove tea bags, allow to cool, then chill in refrigerator for 30 minutes.
Add 0.8oz. of a peach liqueur to tea, and shake in a cocktail shaker.
Pour into flute glasses halfway.
Top off with chilled champagne or dry sparkling wine.
Thé N°25 Mulled Wine
Ingredients:
750mL of red wine (1 bottle)
5/8 cup brown sugar
4–5 rounded teaspoons (7 to 11g) of Le Palais des Thés' Black Thé N°25"
Preparation:
Slowly heat the wine and sugar in a large pot over a low flame.
When the mixture begins to come to a boil, turn down the heat and simmer (without boiling) for about 5 minutes until the sugar has completely melted.
Add the tea to the pot, cover, and infuse for 4 to 5 minutes over a very low flame.
Filter and drink hot.
Optional:
Add a vanilla bean to the pot when adding the sugar.
Remove before serving. When serving, garnish each glass with a slice of orange.
Santé! To purchase this luxury, and for more holiday gift ideas by Le Palais des Thés, visit
PalaisdesThes.com
.
Francois-Xavier Delmas and Aurelie Bessiere
Founder Francois-Xavier Delmas with Mr. Somani in Darleeling, India
Gift set