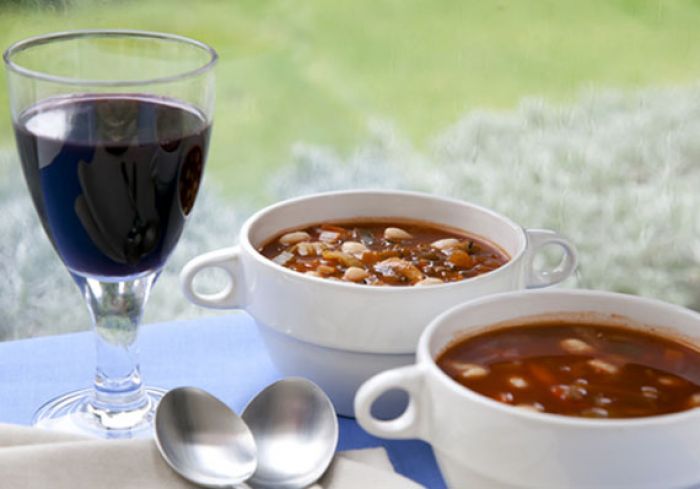 Here's a yummy fall pairing you're sure to love. The sausage soup is to die for and when paired with the
Château Julien
affordable ($15) 2009 Barrel Select Merlot — we definitely have a fall time winner.
The Barrel Selected label was introduced to the Château Julien wine portfolio in 1998. These wines typically have mild tannins and forward fruit, making them extremely food-friendly and approachable upon release. The Barrel Selected wines are aged in one-to-three year old French and American oak barrels, and have been awarded numerous value accolades over the years.

The winery's first release came in 1985 with Chardonnay and Merlot from the 1982 vintage. Today, the entire process of wine production takes place on the 16-acre estate, including the aging of nearly 2000 oak barrels of wine. Winemaker Bill Anderson joined the winery in 1982, and produced the winery's first 100% Merlot with the premier vintage. Bill continues to produce wine at Château Julien Wine Estate, and has played an integral part in establishing Merlot as the winery's flagship varietal.


This dish was made specifically to be served with Château Julien Barrel Select Merlot — the winery's flagship varietal.

INGREDIENTS:
1 pound Italian sausage
1 clove garlic, minced
2 (14 ounce) cans beef broth
1 (14.5 ounce) can Italian-style stewed tomatoes
1 cup sliced carrots
1 (14.5 ounce) can great Northern beans, undrained
2 small zucchini, cubed
2 cups spinach – packed, rinsed and torn
1/4 teaspoon ground black pepper
1/4 teaspoon salt
DIRECTIONS:

1. In a stockpot or Dutch oven, brown sausage with garlic. Stir in broth, tomatoes and carrots, and season with salt and pepper. Reduce heat, cover, and simmer 15 minutes.

2. Stir in beans with liquid and zucchini. Cover, and simmer another 15 minutes, or until zucchini is tender.

3. Remove from heat, and add spinach. Replace lid allowing the heat from the soup to cook the spinach leaves. Soup is ready to serve after 5 minutes.

This post originally appeared at CityRoom.com.