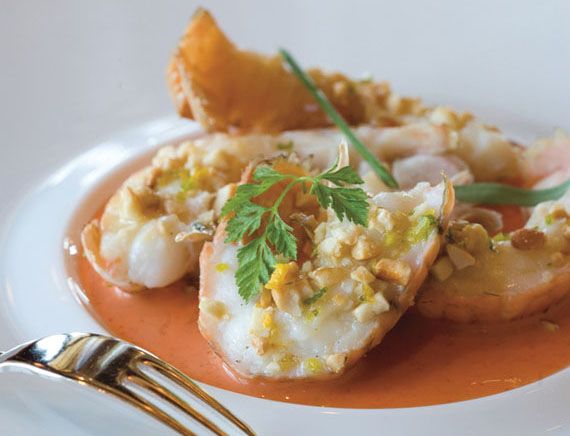 William Bradley, was a 2010 James Beard Foundation semifinalist and is the Executive Chef of the Addison Restaurant at The Grand Del Mar in San Diego, California. The Addison is the only Southern California restaurant bestowed with 5 Diamonds, with many thanks due to Bradley's refined touch.
Ingredients:
2 Garlic cloves, chopped
1 Teaspoon fresh ginger, minced
1 Tablespoon brown sugar
3 Tablespoons Thai red curry paste
4 Tablespoons olive oil, plus some for basting
1/2 Cup coconut milk
1 Tablespoon yuzu lime juice*
8 Langoustine tails
Fleur de sel (sea salt) to taste
2 Tablespoons parsley, chopped
Method for Thai red curry sauce:
Over low heat, combine garlic, ginger, brown sugar, curry paste and olive oil in a saucepot. Slowly sauté for five minutes while continuously stirring.
Add coconut milk. Once mixture comes to a boil, remove from heat. Add yuzu lime juice. Strain through a fine mesh strainer. Cover and keep warm.
Method for langoustines:
Split langoustine tails in half lengthwise. Shell side down, baste with olive oil and fleur de sel to taste.
Grill shell side down for one minute. Flip and grill meat side down for an additional minute. Remove from heat.
Assembly:
On four plates, place lobster tails shell side down. Spoon Thai Red Curry Sauce over top of each tail and sprinkle with chopped parsley.