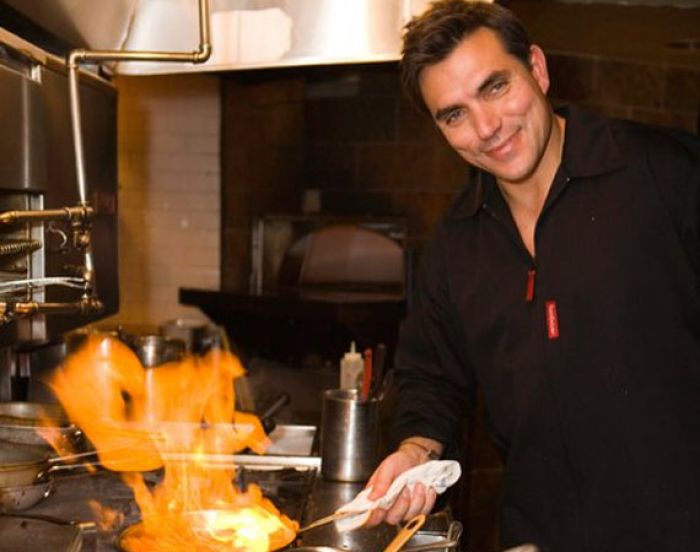 Photo Courtesy of Todd English/Facebook
There once was a time when you'd visit a restaurant and not know who the maestro was crafting the culinary repast. My, how times have changed. Today, many restaurants succeed or fail based solely on the name of the owner/chefs.
If you're not a world-renowned gourmet, chances are your restaurant will struggle to find a regular clientele and recognition. Wolfgang Puck and Jacques Pepin were the first chefs to become household names. Now there's Bourdain, Ripert, Keller, Colicchio, et. al., all stellar chefs, all with a cult-like following and a number of hot restaurants to their credit. But probably the most prolific of all celebrity chefs is
Todd English
.
It seems as if English is everywhere. If he's not on television (
Food Trip with Todd English
on PBS), he's traveling around the country, heading cooking seminars or visiting one of his 25 restaurants. English never takes a break and he hasn't let up since he decided to become a chef as a teenager.
The ever suave and dapper Texas native grew up in a part-Calabrese-part-Sicilian family that loved to cook. He attended the Culinary Institute of America in New Hyde Park, New York, and apprenticed under Jean Jacques Rachou at La Cote Basque. He traveled to Italy, working his way up at Dal Pescatore in Conto Sull O'lio and Paraccuchi in Locando D'Angello. At 25, he returned to the States to work at Italian restaurants in and around Boston. He opened his first restaurant, Olives, in 1989 in Charleston, Massachusetts. Two years later, he was named National Rising Star Chef at the James Beard Awards.
In the 20 years since Olives first bloomed on the culinary scene, English has opened two more
Olives restaurants
in New York and Las Vegas, Figs and Kingfish Hall in Boston, Plaza Food Hall by Todd English at New York's Plaza Hotel and restaurants on Cunard cruises. Although he works tirelessly on his craft, English is quick to attribute his success to his employees. "I have an amazing team of restaurant chefs who helm my kitchens, and my management teams and executive staff keep my business and front of the house running smoothly," English says.
Although most of English's restaurants have a Mediterranean bent, he keeps abreast of the latest techniques and ingredients and incorporates them in new dishes. "Spices are now more prominent than ever. People want big flavors but low calories. I love making my own spice blends and flavor infusions, and I'm a big fan of Berber, Za'atar and Harissa [all Middle Eastern spices].
For the spring, English is particularly fond of fresh, local produce from farmers' markets. "There are so many different greens to choose from like Mizuna and mustard greens," he says. "I love using pea sprouts and making a fresh pea salad with citrus and crab. Of course, I always get excited about the traditional summertime favorites like sweet corn and heirlooms, white and yellow peaches."
Home cooks often take their cue from great chefs. What would English suggest every budding gourmet have in his or her kitchen? "You have to have extra virgin olive oil, a pepper mill with fresh black pepper, fresh sea salt, a good chef's knife, a set of nonstick cookware and a mortar and pestle."
This spring, fire up the grill and test out one of English's favorite recipes. Both are light, use fresh, locally sourced ingredients and pack a flavor wallop.
Todd English Skirt Steak with Sweet Corn Raita
(Two 8 oz. Skirt Steaks Serves 4)
Ginger Skirt Steak Marinade:
3 tbsp chopped fresh ginger
8 cloves of garlic
1 bunches of parsley
1 bunch of cilantro
? cup of brown sugar (tightly packed)
3 whole shallots
1/4 cup of Worcestershire sauce
? cup of balsamic vinegar
1 cup soy sauce
Procedure:
1. Place all ingredients in a blender and puree until smooth
2. Pour over the steak and let marinate for 1–2 hours
3. Season with salt and pepper and place on hot grill
4. Cook for four minutes on each side for rare. Slice and serve on top of sweet corn raita (recipe as follows)
Sweet Corn Raita:
4 ears sweet corn, shucked and grilled
2 minced jalapenos (vein removed)
1 bunch cilantro
1 red onion
1 ? cup Greek yogurt
? cup lime juice
Zest of 3 limes
Salt and pepper to taste
Procedure:
1. Cut corn off cob and place in bowl
2. Fold in all remaining ingredients and place in refrigerator
To serve:
1. Spoon sweet corn raita in a line across the plate
2. Slice skirt steak against the grain and drape on top of corn raita. Garnish the steak with cilantro spring and sea salt.
White Peach and Feta Salad
(Serves 4 – 6)
Ingredients:
4 large ripe white peaches sliced
1 cup feta cheese (Bulgarian feta is recommended)
4 large mint leaves, chiffonade cut
1 tablespoon extra virgin olive oil
2 bulbs medium sized fennel bulbs, slice very thinly (using a mandolin is recommended)
Vinaigrette:
Juice of 1 lemon and zest
1 tablespoon extra virgin olive oil
Salt and pepper to taste
Procedure:
1. Combine all ingredients in a large bowl.
2. Add vinaigrette mixture and lightly toss together so not to bruise the peaches.
3. Top with fresh cracked black pepper.
Visit
ChefToddEnglish.com
to learn more.