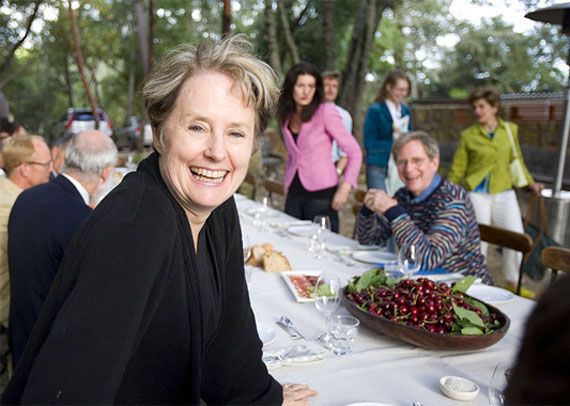 Photos: Chez Panisse/David Sifry/Edible Schoolyard
Alice Waters is a legend in the food world. More than anyone since Julia Child, Waters has changed the way Americans view food and she continues to change the face of modern cooking day after day as more and more Americans become aware of the importance of healthy food.
Just 27 years old when Waters first opened
Chez Panisse
restaurant in Berkeley, California, the 1970s establishment has since become a veritable paradise for food lovers the world over. As one of the first chefs to demand responsibly sourced, healthy food, Waters was one of the first in the movement now known as "slow food."
"Slow food" has become the term for Waters' views that food should be comprised of ingredients that are seasonal, sustainable and local — a healthy alternative to fast food. Waters and Chez Panisse have created a community of farmers and ranchers that supply the restaurant with the finest ingredients.
"The Mother of Modern American Cooking" expanded her community outreach in 1996 to create "The Edible Schoolyard" at Berkeley's Martin Luther King, Jr., Middle School — a one-acre garden, an adjacent kitchen-classroom, and an "eco-gastronomic" curriculum. The project has since grown to become a national example of Waters' dedication to providing nutritious daily lunches to public schools in the United States.
From the schoolyard at Martin Luther King, Jr., Middle School, the location now is the central kitchen for all of the schools in the district. It has also spawned "The Edible Schoolyard Project," an online community where schools and parents can learn as they strive to teach kids about the importance of a healthy diet and knowing where food really comes from.
Waters says, "I feel that good food should be a right and not a privilege and it needs to be without pesticides and herbicides. And everybody deserves this food. And that's not elitist." To help share her vision of a food economy and love of food, Waters has written eight books, including
The Art of Simple Food: Notes and Recipes from a Delicious Revolution.
The book is filled with Waters' philosophy of using fresh, natural ingredients and cooking them simply, to bring out the essence of the ingredients. The book also includes variations on the
recipes
and explanations of common cooking methods, making it instructional for those without much culinary experience, but still indulgent enough for skilled home cooks.
She has also received various honors and is a member of many food organizations including:
Inductee, California Hall of Fame, 2008
Co-recipient, with Kofi Annan, Global Environmental Citizen Award, 2008
Member, American Academy of Arts and Sciences, 2007
Lifetime Achievement Award, Restaurant Magazine's World's 50 Best Restaurants, 2007
Founder, Sustainable Food Program at the American Academy in Rome, 2006
Force for Nature Award, Natural Resources Defense Council, 2004
Best Restaurant in America, Gourmet magazine, 2001
Founder, Yale Sustainable Food Project, Berkeley College, Yale University, New Haven, Connecticut, 2003
Vice President, Slow Food International, Bra, Italy, 2003
Read Top Chef Interviews