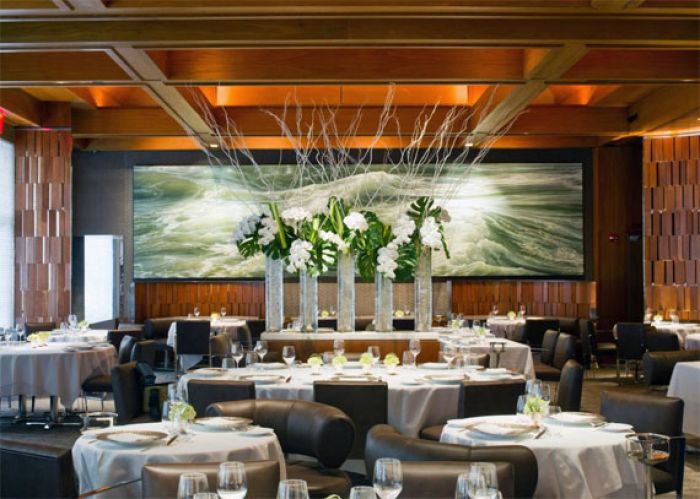 Photo Courtesy of Le Bernardin
What factors make any given restaurant that much better than another? In a country with so many great eating places to choose from, seeking out the best ones can be a daunting feat and could quite possibly inspire blood-boiling debate. Just how good is that cozy neighborhood spot with the best spaghetti and meatballs you've ever had? What about that impossible-to-get-into sushi bar that serves 20 perfectly executed courses to a handful of lucky diners every night?
And who's to say the best restaurant in America isn't a barbecue place so incredible that both visitors and locals are willing to wait in line for three hours for sliced brisket and ribs? Bearing this in mind, we offer The Daily Meal's list of the 101
Best Restaurants
in America for 2012.
Click here for the Best Restaurants in America 2012 Slideshow
This is our second annual attempt to acknowledge and rank the multitude of great restaurants, on every level, with which our country is blessed,
and it should be noted that while a third of last year's restaurants fell off, 68 of the places that made the cut last year also secured a spot in 2012. That turnover made room for a considerable handful of new, fresh places and familiar spots that didn't show up in 2011.
How did we come up with our list of America's best? The first step was a nomination process. An illustrious panel of judges (comprised primarily of restaurant critics, food and lifestyle writers, and assorted bloggers, from across the country) examined the list of 2011's winners and offered nominations for new restaurants to be considered. Next, The Daily Meal's editors added their nominations, ending up with a total of 202 nominations, and prepared a survey that allowed participants to vote for their favorites.
The voting — based on cuisine, region, and a number of specific factors, including formality (of food and atmosphere), level of "buzz," and price range — narrowed the list to 101. As was the case last year, the spectrum of restaurants ranged from chef-driven neighborhood spots and avant-garde restaurants to iconic casual establishments. Each restaurant had the chance to be voted on three times during the survey. Finally, the percentage scores from each category were averaged to arrive at the final ranking.
More from our friends over at TheDailyMeal: