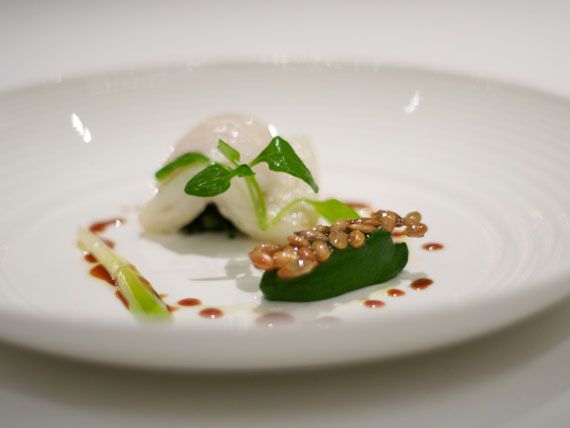 Executive Chef Markus Glocker of Gordon Ramsay At The London restaurant in New York City helped craft this filet of turbot recipe, with sweet spinach and parsley puree, champagne sauce, and sweet candied pumpkin seed garnish. This, among other succulent dishes, can be found on the prestigious menu at Gordon Ramsay At The London's New York location.
Candied pumpkin seeds
? pt. pumpkin seeds
? cup sugar
? cup water
Grape seed oil
Season the sugar and water with a little salt and pepper and cook the pumpkin seeds in this until the seeds are glazed by the sugar/water combination. Then put them straight into the hot oil and fry until golden brown, remove, spread flat and leave to cool on parchment paper. They will stick together – almost looks like a brittle.
Spinach & Parsley Purée
6 shallots
1 bunch parsley
? cup spinach
1 tsp. butter
Sweat the shallots until soft and translucent. Blanch the spinach and parsley in boiling salted water until completely tender and then cool in ice water. Add the spinach, parsley and shallots to the blender and purée until smooth adding in the butter a little at a time during the blending process. Pass through a chinois and season with salt and black pepper.
Champagne Sauce
1 cup fume (reduced fish stock)
? cup cream
Dash of lemon juice
Champagne to finish
Salt to taste
Heat fume, cream and lemon juice in a small pot. Add Champagne and finish with an immersion blender so you get a nice, light foam.
Turbot Assembly
Filet and skin the turbot, portion into 5 oz. and then on one side of the filet make an incision with a knife to create a pocket in the fish. Separate an egg and season the yolk with grated long pepper. Carefully place the egg yolk into the pocket that has been created in the filet and seal with a wooden skewer.
Finish the Dish
Place the fish in a warm non-stick pan with a little canola oil and butter, a sprig of thyme, season with salt and place the pan in the oven set at 350 degrees and cook for 3 minutes. Meanwhile, for the garnish heat up a little of the purée and sauté a little fresh spinach with some butter and season with salt and long pepper. On the plate add the sautéed spinach and along side that a spoon of the puree, sit the cooked fish on top of the sautéed spinach and sauce over a little of the Champagne sauce. Finish with a small piece of the candied pumpkin seeds.