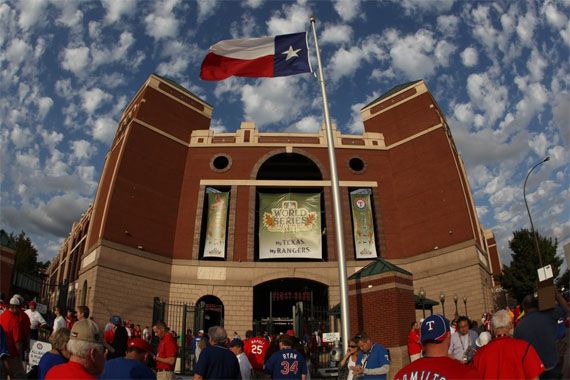 Photo Courtesy of Texas Rangers
The two-year American League champion Texas Rangers are covering all the bases when it comes to improvements for the 2012 baseball season. The upgrades to keep home-field advantage made by the team that appeared in the World Series for two consecutive years address pitching, hitting, and apparently, eating. 
Last week, the
baseball
team announced that two-foot long hotdogs are available at concession stands at Rangers Ballpark for the entire season. The league's longest hotdog, The Boomstick, will sell for $26. The same hotdog will be on the menu at the ballpark's Captain Morgan Sports Bar and listed as The Champion Dog.
Cristobal Vasquez, a Rangers Ballpark chef, is the creator of the 24-inch hotdog. It is large enough to feed four and is topped with shredded cheese, chili, jalapenos, and sautéed mushrooms. The Coney Island-style wiener is made by Classic Foods. A local bakery makes the special buns. Nolan Ryan, president of the Texas Rangers and a Hall of Fame baseball player who pitched more no-hitters (7) than any player in MLB history, called The Boomstick a "wild dog," when speaking about it during an interview recently broadcast on ESPN 103.3 FM.
Maybe everything in Texas does turn out to be the biggest? The Champion Dog is the second big, haute hot dog to come from the state. The same Rangers also featured a half-pound hotdog on the menu at its concession stands during the 2011 Fall Classic. For more information, visit 
TexasRangers.MLB.com
.