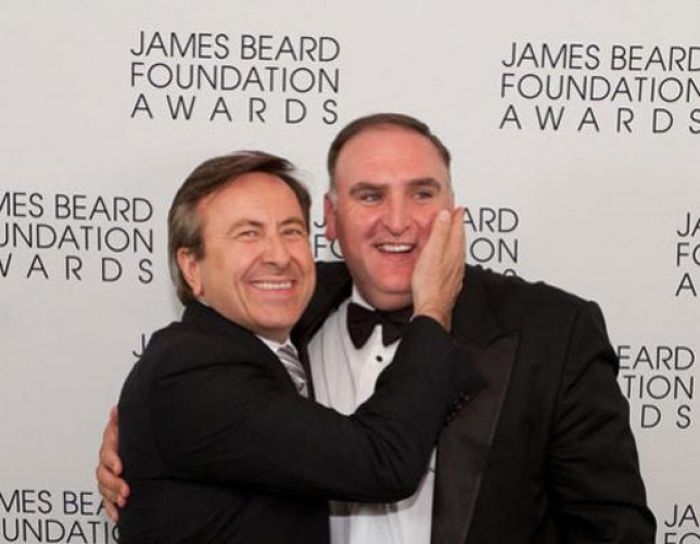 Photo Credit: James Beard Foundation/GQ
While most are familiar with the James Beard Awards, whose 2012 nominees were announced March 19, others may not be as familiar with the man who lent his name to the foundation that honors
top chefs
worldwide. The annual James Beard Foundation Awards take place in early May to mark Beard's birth and to recognize continual innovative talents and contributions of chefs, food writers, critics, designers, and the many others who make up the multiple layers of today's culinary industry. Beard was said by many to have been the first chef and food writer to have truly established veneration for American culinary traditions. According to Julia Child, fellow chef and dear friend, Beard was, "the quintessential American cook." In his lifetime he established The James Beard Cooking School as well as Citymeals-on-Wheels, feeding others his passion for food, travel, and life.
The James Beard Awards are often known as the "Oscars of Food," and like the Oscars, self-proclaimed foodies and industry professionals are anxious to see who will be taking home the headlining prizes. The Foundation Awards often highlight some of the international restaurant scene's biggest names, such as
Wolfgang Puck
, who has been named for the 2012 "Lifetime Achievement Award," and
Charlie Trotter
, who is up for the 2012 "Humanitarian of the Year." However, many overlook some of the event's freshest categories. For the first time this year, the Foundation will include an award for "Outstanding Bar Program." The nominees for the new category include Chicago-based restaurants The Aviary and The Violet Hour, San Francisco's Bar Agricole, as well as Pegu Club and PDT, which are both based in New York City.
Many chefs acknowledge the huge impact the internet and technology has had on the food industry. Categories that recognize the contemporary directions in which the culinary world has grown include awards for blogging, design, and even humor. International food-blogger Gwen Pratesi is a nominee for the Individual Blogger Award, nominated for her installment of "On The Road Culinary Adventures: Kentucky." Author Annia Ciezadlo, who worked as senior editor for
New York Magazine City Limits
before moving to Baghdad in 2003 to cover stories on the Iraq war, is nominated for her memoir
Day of Honey: A Memoir of Food, Love, and War
.
The Foundation also offers a category for "Outstanding Restaurant Design," honoring nominees that have lent artistic expression to restaurants. New York-based design firm Common Space Studio is nominated for its graphic renderings for The Dutch restaurant, located in New York City, while Bentel & Bentel Architects has been nominated for its architectural design on Le Bernardin, also in New York City. As prestigious as the The James Beard Foundation Awards are, they even seem to have room for a bit of comedy. Brett Martin, correspondent for
GQ
and author of
Top Chef The Cookbook
, was nominated for his humorous piece, "The Hangover Part III," in which Martin writes about the gastronomic tour of Tokyo he embarked upon with comedian Aziz Ansari, top Chef David Chang, and rocker James Murphy (below).
Despite the menagerie of interesting culinary contributors that will comprise the 2012 awards, many are most interested to learn who will be taking home the big prizes. The award for Outstanding Restauranteur have nominees which include the Bromberg brothers, Tom Douglas, Piero Selvaggio, Caroline Styne, and Phil Suarez. The Best New Restaurant category is comprised of AQ in San Francisco, Fiola in Washington, DC, Next in Chicago, as well as Isa and Tertulia in New York City. The 2012 Rising Star Chef of the Year nominees are Dave Beran of Next restaurant in Chicago, Daniel Bowien of San Francisco's Mission Chinese Food, Thomas McNaughton of flour + water in San Francisco, Christina Tosi of NYC's Momofuku Milk Bar, and Sue Zemanick of Gautreau's in New Orleans.
Winners will be announced on May, 4 2012. For ticket information visit
JamesBeard.org