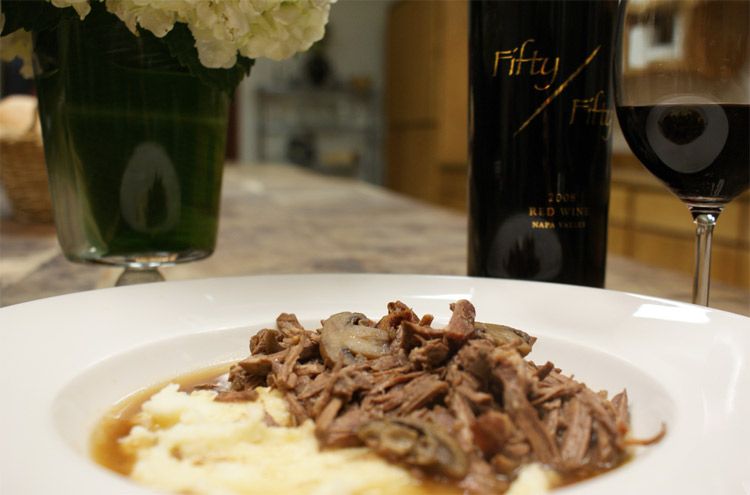 Photo Courtesy of Peju Winery/Brittany Starr
Beef lovers rejoice in this hearty French stew, made with the highly-rated Peju Fifty/Fifty—half Cabernet Sauvignon and half Merlot. This dish brings together deliciously tender meat, garlic, spices and vegetables for a flavorful punch that pairs perfectly with a smooth red wine.
Servings:
10
Cook Time:
3 1/2 hours
Pair With:
The highly-rated Peju Fifty/Fifty Napa Valley
INGREDIENTS:
1/4 cup olive oil
1/2 lb. boneless chicken, cut into bite size pieces
1 large onion
1/4 cup water
2 cups uncooked rice
3 garlic cloves, chopped
24 oz. canned tomatoes, chopped, plus juice
3 teaspoon salt
1/2 tablespoon chicken bouillon
1 tablespoon paprika
3/4 teaspoon pepper
1/4 teaspoon saffron
1/2 - 1 teaspoon crushed red pepper (to taste)
1 1/2 lbs. cleaned, deveined shrimp (tails are optional)
1 1/2 lbs. sea scallops
1 1/2 lbs. sausage—beef or pork
24 oz. artichoke hearts, quartered
16 oz. frozen peas
1 small jar pimientos or roasted red bell peppers
1 large can of large, pitted black olives
1 cup Cabernet Sauvignon*
EQUIPMENT:
1 large skillet
1 medium skillet
1 oven-proof casserole
Slotted spoon
DIRECTIONS:
1. Preheat oven to 425 degrees Fahrenheit.
2. Cut the bacon into small pieces.
3. Cook all of the bacon in a large skillet over medium heat until done (crispy).
4. Remove bacon from skillet with slotted spoon and put in the casserole aside.
5. Sear/brown the beef in the bacon fat, until cooked through, seasoning to taste with salt and pepper while it cooks. Remove with slotted spoon and add to casserole aside with the bacon.
6. Sauté mushrooms in the skillet with the remaining bacon and beef fat in the skillet. At the same time in a different skillet, sauté the onion in butter until clear.
7. Add onion and mushrooms to casserole and cover with equal parts of stock and wine.
8. Cover casserole with lid and place in oven for one hour.
9. Reduce oven heat to 350 degrees Fahrenheit and cook for two more hours.
10. Remove from oven. Shred beef to desired consistency and return shredded beef to stock.