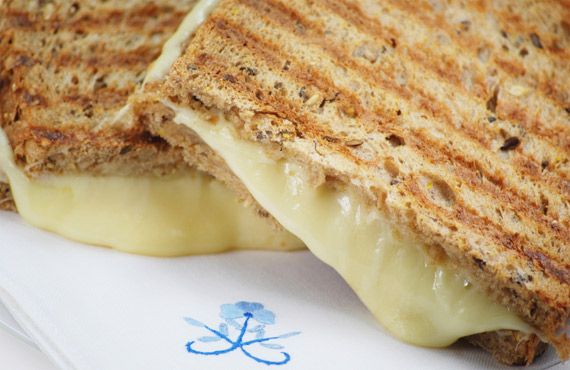 The ultimate grilled cheese is crisp and crunchy on the outside, gooey and warm on the inside. This grilled cheese courtesy of Gnekow Family Winery uses rich oka cheese, dill pickles and a touch of chipotle pepper to add a little kick to a traditional dish. Cut into little triangles and serve at a gathering to surprise your guests with a twist on an old classic.
Servings:
Any
Cook Time:
10 minutes
Pair With:
A refreshing glass of Gnekow Family Winery 2008 Campus Oaks Chardonnay
INGREDIENTS:
Good quality bread
Oka or good quality cheese slices
Sprinkle of chipotle pepper
Dill pickles
DIRECTIONS:
Butter both sides of slices of bread; add your favorite cheese and sprinkle the cheese with a small amount of chipotle pepper. Top with a second slice of bread.
Over medium heat, let the pan heat up for about 15 seconds, then glide the sandwich into the pan. Next, cover the pan with a lid - doing this helps evenly distribute the heat to the sandwich for optimum melting.
When the underside of the sandwich is golden brown and the cheese is melting out the sides, turn over the sandwich and brown the other side over medium heat. The second side grills much faster than the first: 1-2 minutes.
Once the second side is crisp and golden, remove the sandwich from the pan, slice it and serve with some garlic dill pickles. The combination can't be beat!