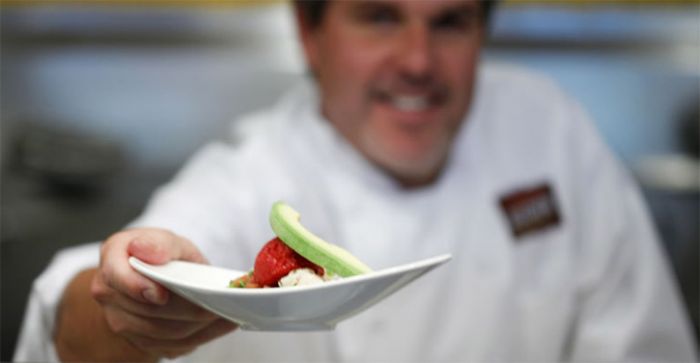 Photo Courtesy of Richard Sandoval Restaurants
The
world-renowned chef
has something to celebrate: the 15th anniversary of Richard Sandoval Restaurants. With locations across the globe including Denver, Las Vegas, NYC, Santa Monica, Washington DC, Mexico, Dubai and Qatar, the celebration is truly a world-wide experience. Blending the distinct Latin-inspired foods with Asian influences through the month of June at Sandoval's Zengo, Richard Sandoval Restaurants are offering a fantastic new menu, Test Kitchen: Hanoi-Havana.
Zengo means "to give and take," a perfect name as the flavors and preparations melodiously play off one another in these special dishes. Vietnamese inspired cuisine blend with Cuban fare in a culinary adventure on your plate. Utilizing ingredients from both cultures, including coconut, lime, and garlic, dishes such as Cangrejo Enchilado and Morcillas are as vibrant as the red and orange lanterns hanging over the dining room.
If softshelled crab lettuce wraps and pork blood sausage aren't your thing, the Cha Ca Thang Long is a spectacular and delicate dish, featuring a whole catfish with rice noodles and black bean chile sauce. Melt-in-your-mouth and served with the traditional Vietnamese garnishes, the Cha Ca Thang Long is particularly fantastic on this new menu.
From the superb coconut rice and mango salsa served with the Lemongrass Arroz con Pollo to the burst-in-your-mouth flavor of cherries in the Cereza Daiquiri cocktail, the flavorful and inventive dishes by Sandoval are just as bright as ever.
Showcasing the techniques of the region and paying homage to the wide varieties of culinary capabilities, Zengo is a great stop this spring and summer to enjoy something decidedly different. To learn more about Richard Sandoval Restaurants, visit
RichardSandoval.com
for locations and reservations.