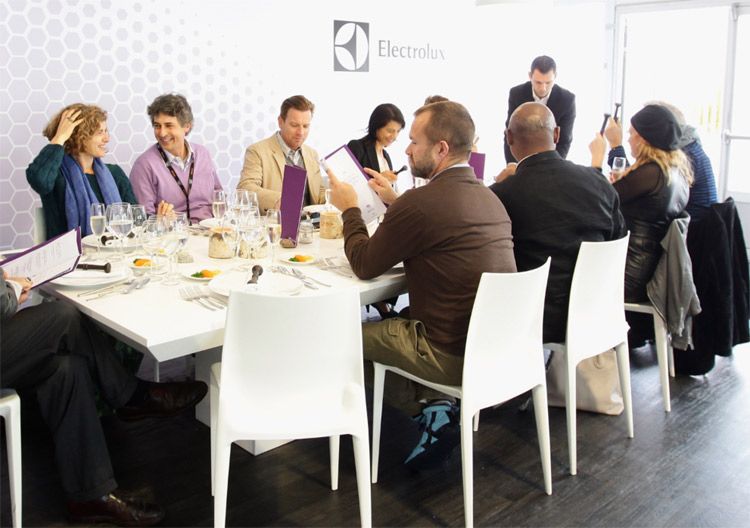 Photo Credit: Image.net/Vittorio Zunino Celotto
Having dinner at the chef's table is a very exclusive and thrilling experience. Guests are actually invited into the restaurant's kitchen where they watch the chef and his staff meticulously prepare a special menu just for the occasion. Electrolux is opening up this
exciting culinary experience
to members of the public in some of the best restaurants across Europe.
With over 90 years of providing
luxury kitchen appliances
to homes and dining establishments worldwide, Electrolux has gained close relationships with many of Europe's Michelin starred restaurants. The Agora in Cannes was the first to open its kitchens doors to epicureans and A-list celebrities alike during the Cannes Film Festival.
"The Agora kitchen is fitted with professional Electrolux appliances and is home to award-winning chefs who use our products in their own kitchens on a daily basis." said Frederique Pirenne, Electrolux PR Director Europe. "It's the perfect place to launch The Chef's Table. This Michelin star dining experience demonstrates how we support these chefs to create culinary masterpieces for guests that expect the very best."
Electrolux partner Chef Tommy Myllymäki and food and wine expert Jens Dolk hosted the Canned Festival Grand Jury for the first Chef's Table By Electrolux called "Sweden: From Arctic cloudberries in the North to asparagus in the South, experience the latitude of Swedish food." Grand Jury members Jean-Paul Gaultier, Diane Kruger and Ewan McGregor could be seen mashing their own potatoes with mortars and pestle.
"The Grand Jury is tasked with selecting the best creative talent at the Festival so it was important to ensure the culinary artistry of The Chef's Table matched this", says Frederique Pirenne, Electrolux PR Director Europe. "Our Electrolux chefs were confident they could create an award-winning lunch by cooking on the same Electrolux appliances in the Agora as are installed in their own professional kitchens." Online bookings for The Chef's Table by Electrolux across Europe will be available in late 2012. Go to
Electrolux.com
to see more.