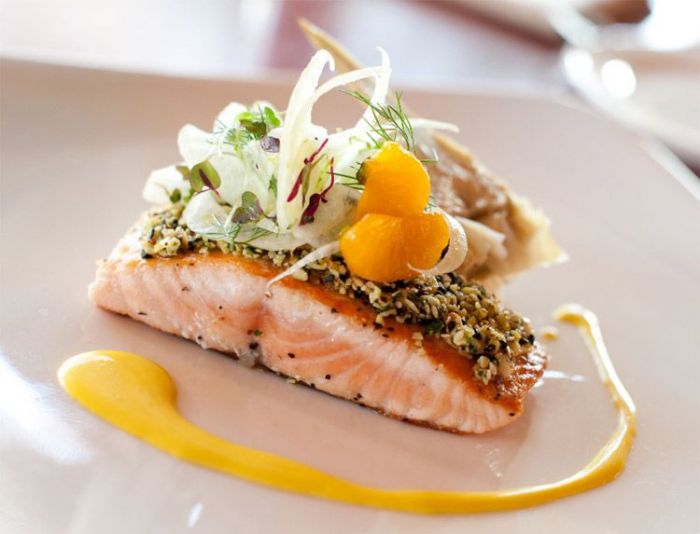 Photo Courtesy of Sycuan Golf & Tennis Resort
This pistachio curry crusted salmon, with avocado butter, and cumin vinaigrette comes courtesy of Executive Chef Augustin Saucedo of Sycuan Golf & Tennis Resort in San Diego. This light entree is easy to make at home for a family dinner or social event as it presents beautifully to guests.
Ingredients:
Serves 6
The Salmon
Six 7 oz. Wild King Salmon filets, cut lengthwise 1/2 inch in thickness by your local fish merchant
1/4 cup olive oil
The Crust
1/2 cup pistachios, shelled
1/4 cup almonds, blanched & sliced
1 tsp. Madras curry
2 Tbsp. finely chopped chives
1 Tbsp. black sesame seeds
1 Tbsp. white sesame seeds
Directions:
Place pistachios, almonds, curry, chives and sesame seeds in food processor. Mix for 20 seconds.
Remove and set aside. Place pistachio mixture on cookie sheet. Dredge salmon filets, covering both sides. Pour olive oil into hot iron skillet.
Sear both sides of salmon until golden brown, approx 1 minute per side. Salmon should be cooked medium rare. Do not overcook or fish will be dry.
Avocado Butter
1/2 cup butter, softened
3/4 cup ripe avocado
2 Tbsp. chopped fresh cilantro
2 cloves garlic, minced
1 lime juiced
To taste sea salt and freshly ground black pepper
Dash Tabasco
Directions:
Whip butter in small mixing bowl until soft and creamy. Blend in avocado, cilantro, and garlic.
Beat in lime juice, salt, pepper & Tabasco. Set aside at room temperature.
The Vinaigrette
1/4 cup Brown Sugar
1/4 cup Egg Yolk
1/3 cup Red Wine Vinegar
1 oz. Cumin
1 cup Water
2 bunches Cilantro
1 ¬Ĺ cup Olive Oil
Salt and Pepper to taste
Directions:
Place all the above ingredients in a blender except for the olive oil. Slowly add the olive oil until it is smooth and emulsifies.
Bon Appetit!