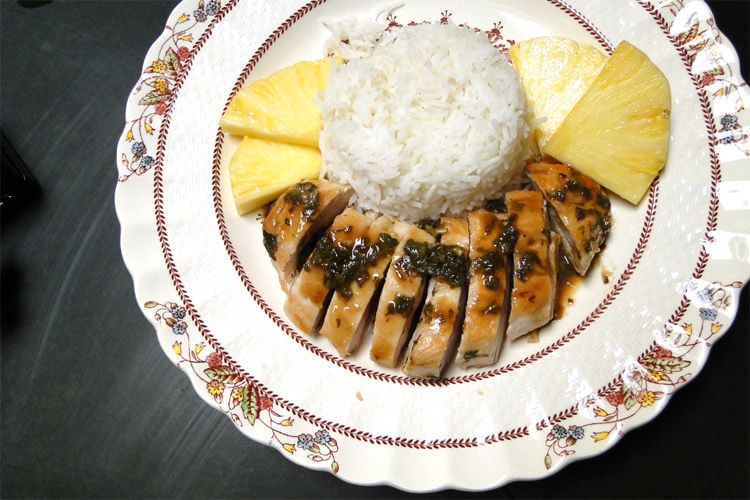 Photo Credit: Tama Takahashi
Go tropical with an easy to make chicken recipe courtesy of Orchard Heights Winery in Salem, Oregon. It's made with wine produced from the juice of sun-ripened pineapples. Present the dish over steamed rice or pasta for dinner or go without for a light lunch.
Servings:
8-10
Cook Time:
45 minutes
Pair With:
The Orchard Heights Island Princess Pineapple Wine
INGREDIENTS:
4 to 5 lb chicken (boneless skinless thighs or breast meat)
1 bottle Island Princess Pineapple Wine (750ml)
2 tablespoons dried basil (or 6 tablespoons chopped fresh basil)
2 tablespoons oil
DIRECTIONS:
Lightly flour chicken on all sides (flour will help thicken the wine to a flavorful sauce as it simmers). Heat oil in a large skillet over medium-high heat. Add chicken to skillet and cook until nicely browned on all sides. Drain any excess grease, leaving chicken in skillet.
Slowly pour Island Princess Pineapple Wine over chicken. Sprinkle basil on top. Stir slightly and turn chicken over once to distribute wine and basil evenly throughout. Cook on medium-high heat, stirring occasionally until sauce begins to bubble.
Reduce heat and simmer uncovered until chicken is thoroughly cooked and sauce has thickened (about 1/2 hour, less for boneless breast meat). Serve over rice or with your favorite pasta.