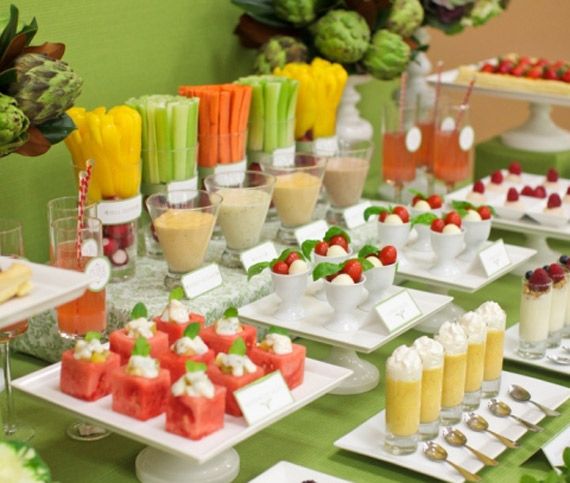 Photo Credit: Amy Atlas
Long gone are the days of just a simple (or not-so-simple) three-tiered wedding cake. While the classic confection is still popular, now often found in creative sizes, shapes, hues, and adorned with many embellishments, different desserts and other
culinary concoctions
are popping up more and more at weddings around the country.
When creating a wedding menu, it can be difficult to get creative because you have to cater to so many people, ergo the usual meat, fish, and vegetarian options. But with other parts of the big day, there is a huge opportunity to customize what's being served. It's no surprise that the cupcake craze is still around, making appearances at tons of nuptials, but the fun does not stop there.
Breakfast bars, popcorn bars, fro-yo stations, macaron mania — these are just a few of the ideas that grace our list of truly original ideas for wedding eats. The day should be a snapshot of the bride and groom, from the small details to every last expense. That can mean everything from serving Grandma's famous cookies (a childhood favorite) to sending guests home with jam from your hometown or an array of popcorn from a memorable vacation spot.
To make sense of it all, create framed notes or mini chalkboards explaining how the food is related to you as a couple.
Bruschetta Bar
Get your fixings on! With enough toppings to create an endless outcome of bites, guests will enjoy crafting their own crostini.
Photo Credit: RitzyBee
Milk & Cookies Bar
How simple is that? Mix it up with chocolate chip, oatmeal raisin, and some sandwich cookies. Have them homemade by friends and family or pick some up from a local bakery and pass along to your caterer.
Photo Credit: Maddycakes Muse
Bloody Mary Bar
Everyone has their own version, so have guests make it how they like it. Spicy, sweet, vegetables or not cater to their tastes.
Photo Credit: Hello Love Photography
Loaded Mashed Potato
Not everyone likes their tots the same way, so provide the spuds and let guests make it their way with endless fixings like chives, bacon, and Cheddar.
Photo Credit: Lucy Dylan Weddings
Cereal Bar
This bar is perfect for kids. Have a nostalgic bar filled with your favorite morning fare. Display in clear canisters for pops of color.
Photo Credit: Maddycakes Muse
Breakfast Bar
If your party is heading to the wee hours for an after-party, have something to sop up all the open bar drinks from the cocktail party and the reception. Breakfast burritos, an omelette station, pancakes, and fresh juices make for a nice pick me up!
Credit: Dustin Meyer Photography
Frozen Yogurt Bar
Addicted to Pinkberry? Yeah, join the club. If youre a health nut or just love the tart treat, create a bar catered by Pinkberry themselves with fruit and dessert toppings.
Photo Credit: Pinkberry
Popcorn Bar
Fun for while the speeches are being given, have a popcorn cart so that guests can have a viewing snack. Kettle corn, caramel, Cheddar, bacon mix it up and supply classic carnival bags, too!
Photo Credit: P is for Party
Pie Bar
Pies are all the rage right now, and they're making appearances in every flavor and in every shape. Represent your hometown with a specific flavor or your grandmothers classic blueberry pie. Also, pie pops make great favors as well!
Photo Credit: Katie Stoops Photography
Comfort Food
The cocktail party is where to show your foodie flare, so have all your go-to comfort foods like sliders, mini grilled cheese, and gourmet fries.
Photo Credit: Person+Killian Photography
Health Bar
For the health nut, create a green alternative as a contrast to all the calorie loading thats going to be happening throughout the night. Make it colorful with fruits and vegetables and have various dipping sauces.
Photo Credit: Amy Atlas
More from our friends over at TheDailyMeal: