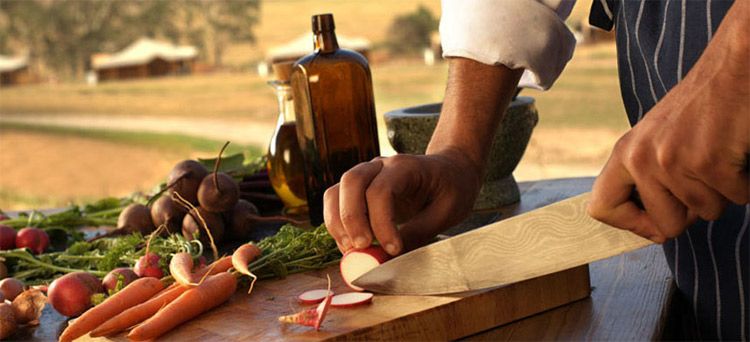 Photo Credit: Wolagan Valley Resort & Spa/Anston Fivaz
Airport lounges across Australia owned by Emirates airlines will soon serve gourmet dishes designed by Chef Anston Fivaz, the executive gourmet chef of Wolgan Valley Resort & Spa. The new menu selections for the lounges will be the same Australian dishes as those offered at the renowned
luxury resort and spa
. Emirates-owned airport lounges in Brisbane, Melbourne, and Sydney will feature the new selections.   
"Emirates has always been very attentive in delivering a dining offering on the ground and in the air that meets the highest standards in quality, ensuring an extraordinary culinary experience while maintaining the authenticity and seasonality of the products," said Mr. Mohammed H. Mattar, Emirates' divisional senior VP, Airport Services. "Choosing Wolgan Valley, its luxury Australian conservation-based property and first hospitality development outside Dubai, to design some of the dishes offered in the lounges was a natural decision for Emirates."
On a monthly basis, the menu of the lounges will offer different starter, main course, and dessert options designed by Chef Fivaz. New gourmet dishes in the Emirates lounges will include appetizers, such as yabby salad, with shaved baby fennel, broad beans, and pea puree with asparagus spears. Main courses include E Beck lamb rump, ratatouille and roasted tomato coulis with candied basil leaves. Dessert examples include apple trifle made with mascarpone cream, apple puree, caramelized apple, roulade sponge, and creme patisserie.
"We're thrilled to extend our gourmet cuisine from Wolgan Valley to Emirates lounges and showcase our seasonal, regional and organic food philosophy," said Joost Heymeijer, general manager of Wolgan Valley Resort & Spa. "We look forward to delivering a uniquely Wolgan Valley gourmet experience for travelers." For more information, visit
Emirates.com
.