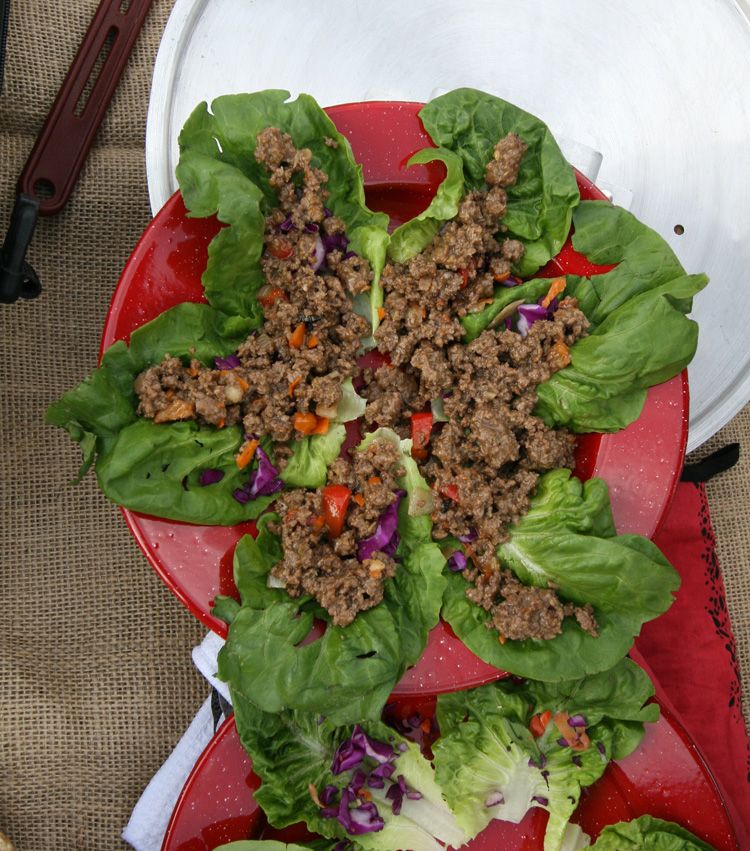 Photo Courtesy of The Cooking Channel
This unique recipe for Thai Beef Lettuce Wraps is brought to us from the Cooking Channel's Chef Ben Sargent of
Hook Line and Dinner
. Sargent and GE Engineer Justin Berger took a road trip together, crossing 2,000 miles to Texas to bring some fresh food to a wildlife biologist. Sargent selected the finest of local ingredients from alligator farms, ranches, farm stands, and dairy along the way.
You don't have to travel cross-country for some of his dishes though, you're now able to create one in your own kitchen!
Ingredients:
1 LB ground lean beef
2 tbsp lime juice
2 tbsp tamari (or soy sauce)
2 tbsp of Srirachi sauce
2 tbsp Thai Sweet chilli sauce
1/4 c. orange juice
1/4 c. diced green onions
2 tbsp honey
I head of Bibb lettuce, washed and dried. Leaves separated.
For the slaw:
5 cups shredded cabbage and carrots (You can use the organic bagged cole slaw mix)
1 tsp fresh grated ginger
1 tsp finely diced cilantro
1 tbsp lime juice
1 tsp tamari
2 tbsp tahini paste
1/2 c. natural chunky peanut butter (sub almond butter if you're legume-free)
2 tbsp honey
1/3 c. orange juice
Preparation for the beef:
Place all ingredients in a cast iron pan.
Ladle some of the juice left in the skillet onto the meat and stir to coat.
Sauté for a few minutes until beef is cooked through.
Preparation for the slaw:
Whisk all the ingredients together in a large mixing bowl except the cabbage & carrots.
Then pour the mixture over the slaw and toss to coat.
Place the meat on the lettuce, top with slaw, and wrap burrito-style.
Serve with hoisin or sweet chili sauce.