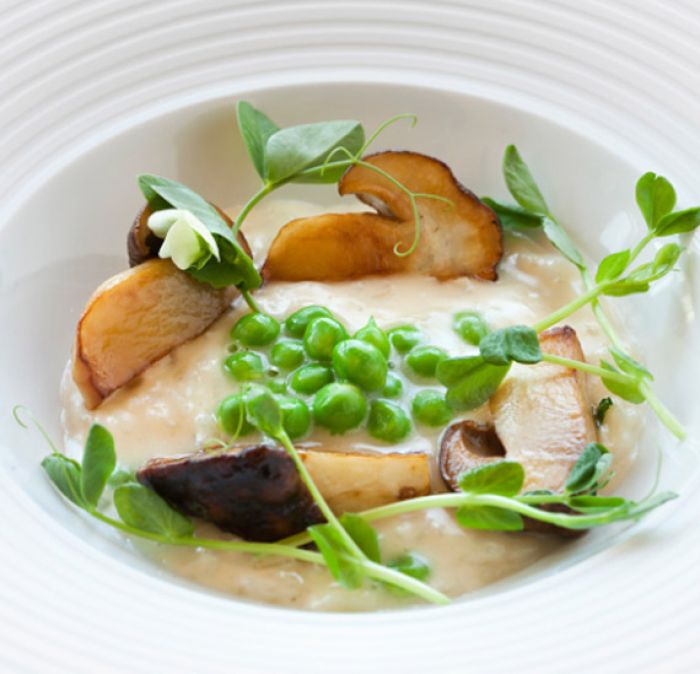 Photo Courtesy of Marinus Restaurant
This beautiful dish comes courtesy of Chef Cal Stamenov of Marinus Restaurant at Bernardus Lodge in Carmel Valley, CA. The Shasta Porcini Risotto elegantly combines carnaroli rice, english peas, and parmigiano-reggiano cheese for a vibrant presentation and creamy texture.
Ingredients:
Serves 6
2 cups wild porcini mushrooms – quartered to similar size pieces
2 cloves garlic – thinly sliced
3 sprigs thyme
2 tbs. olive oil
? med onion (fine diced)
1 cup carnaroli rice (or arborio rice)
? c. sauvignon blanc
4 cups hot vegetable stock
2 tbsp. butter
? cup parmigiano-reggiano cheese
3 cups fresh peas
2 shallots – finely chopped
3 tablespoons chervil – chopped
18 pea shoots
Directions:
In boiling salted water, blanch peas for 30 seconds. Immediately cool in as ice bath.
Heat 2 tablespoons of olive oil in a thick-bottomed saucepan over medium heat. Add garlic, thyme and mushrooms. Season with salt and pepper.
Sauté over medium heat until mushrooms have softened and garlic is fragrant. Heat the olive oil in a thick-bottomed saucepan over medium heat. Sweat onions until translucent.
Add rice and stir slowly, after increasing the heat add the wine. Stir over rapid simmer for 2 minutes. Keep stirring to maintain even cooking of rice. Add stock a little at a time.
Keeping a soupy consistency, the whole process should take about 15-18 minutes for carnaroli rice (3-5 minutes less for arborio). Season with salt during this process, as the rice will absorb the salt. Cook "al dente".
Remove from heat. Add cheese and butter, then stir briskly to emulsify. Adjust seasoning and consistency. Risotto should be smooth and creamy, but textured.
In a pan over medium heat, sauté shallots until softened. Add peas and chervil and heat for 1 minute or until warmed through.
Spoon fresh peas and porcinis over risotto and garnish with pea shoots. Serve immediately.