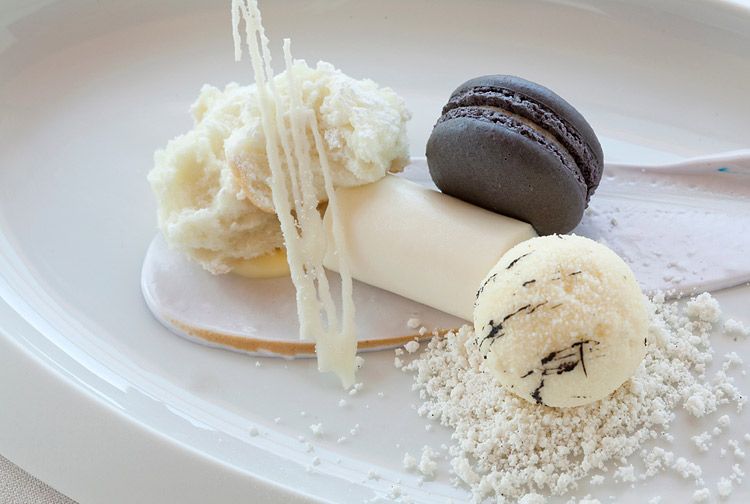 Photo Courtesy of Marinus Restaurant
Pastry Chef Ben Spungin of Marinus Restaurant at Bernardus Lodge in Carmel Valley, CA has brought us this eye catching dessert. The recipe combines light, fluffy angel food cake, goat yogurt mousse, star anise ice cream and a black truffle macaron. Bring all of these bold flavors together and you get a dessert that people will love marveling at as much as eating.
Ingredients
Angel Food Cake – yields 1 angel food cake bundt pan
1? cups cake flour
1 ? cup sugar
2 cups egg whites
1 tablespoon cream of tartar
2 tablespoons of warm water
1 tablespoon vanilla
1 ? teaspoons salt
Directions
Sift together cake flour and ? cup sugar in a small bowl. Combine egg whites, cream of tartar and 1/3 cup sugar in a Kitchen Aide bowl.
Using the whisk attachment, beat to soft peaks gradually adding 1/3 cup more sugar. Continue to beat and add final 1/3 cup sugar, warm water, vanilla and salt. Beat to firm peak, but not dry.
Grease and sugar a bundt pan. Pour in batter until 2/3 full. Bake at 300 degrees for 10-14 minutes or until golden.
Goat Yogurt Mousse – yields 2 ? cups
1 ? cups goat yogurt
1 cup corn syrup
? cup sugar
4 sheets gelatin
Pinch of salt
1 ? cups cream – soft whipped
Directions
Bloom the gelatin in cold water. Place yogurt, corn syrup and sugar in a small pot. Whisk over medium heat, until sugar has dissolved. Stir in gelatin.
Remove from heat and stir in the soft whipped cream. Pour into desired dishes and chill for up to 4 hours.
Star Anise Ice Cream – yields 1 quart ice cream
2 cups milk
2 cups cream
1 ? sugar
12 egg yolks
1 cup star anise – whole
Directions
Place milk, cream, sugar and star anise in a large pot. Bring to a simmer and slowly simmer for 10 minutes. Place egg yolks in separate bowl and slowly temper the cream base into the yolk bowl. Whisk well to combine.
Return mixture to the hot pot and place over medium heat. Whisk briefly for 5 seconds. Remove from heat and strain through a fine sieve.
Pour into a metal container, held in an ice bath. Once chilled, spin in an ice cream maker according the manufacture's directions.
Black Truffle Macaron – yields 50 cookies
1 ? cup powdered sugar
1? cups almond flour
4 ounces sliced, dehydrated and powdered black truffle
2 egg whites
? cup sugar
Pinch salt
Tiny pinch of black food coloring powder
Directions
Sift powdered sugar and almond flour into small bowl. In a Kitchen Aide, set with a whisk attachment, whisk to the eggs until frothy. Add ? cup sugar, salt and food coloring.
Whip to soft peaks. Add mixture to the dry ingredients. Using a rubber spatula, fold the mixture to fully incorporate ingredients.
Cover cookie sheet with silpat or parchment paper. Place mixture in a piping bag. Holding the piping bag vertically, create coin sized rounds. Allow cookies to rest on the cookies sheet for 20 minutes or until top is dry to the touch.
Bake for 15 minutes at 350 degrees, turning half way through.