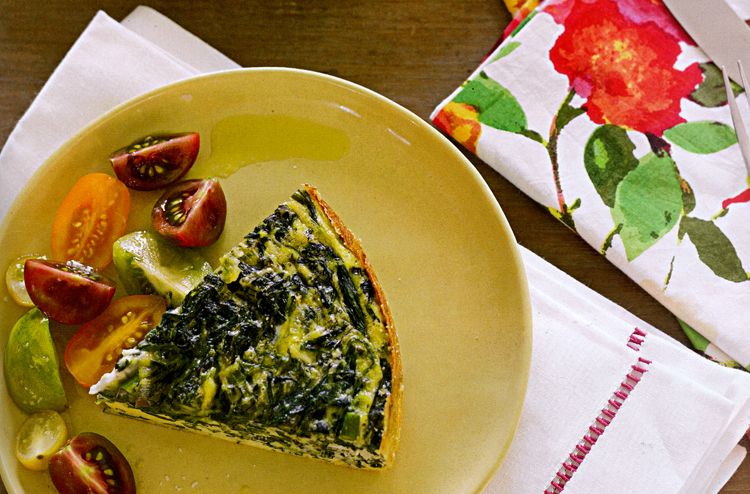 Photo Courtesy of Katie Lee
This tasty frittata recipe comes to us from celebrity chef, author and former host of
Top Chef
, Katie Lee.
A frittata is so much easier than making omelets, and it can be served at room temperature. This frittata is so flavorful – it tastes like spring, with the leeks, asparagus, and spinach. I love the creamy goat cheese but you could also substitute feta or any other soft cheese.
Katie also recommends pairing her brunch recipes with Clos du Bois Chardonnay.
Servings:
6
Prep time:
20 minutes
Inactive prep time:
5 minutes
Cook time:
45 minutes
Ingredients:
2 tablespoons (1/4 stick) unsalted butter
2 leeks, white only, thinly sliced
8 large eggs, beaten
1 cup blanched asparagus tips
2 cups cooked fresh or frozen spinach, thawed and squeezed of excess water
? cup fresh basil, chiffonaded
4 ounces goat cheese, crumbled
? cup grated parmesan cheese
? teaspoon kosher salt
? teaspoon freshly ground black pepper
? cup dry bread crumbs
Directions:
Preheat the oven to 350°F.
In a medium skillet over medium heat, melt the butter. Add the leeks and sauté about 10 minutes. Remove from heat and cool completely.
In a large mixing bowl, combine the eggs with leeks, asparagus, spinach, basil, goat cheese, Parmesan, salt, and pepper. Mix well.
Spray a 9-inch nonstick cake pan or springform pan with nonstick cooking spray. Add the bread crumbs and shake until the bread crumbs evenly coat the pan. Pour the egg mixture into pan.
Bake for 30 to 35 minutes, until solid and a toothpick comes out clean. Cool in the pan over a wire rack for 5 minutes. Invert the frittata onto a plate, then flip right side up onto a serving plate or remove sides of springform pan and transfer to a serving plate.
Can be served warm or at room temperature.