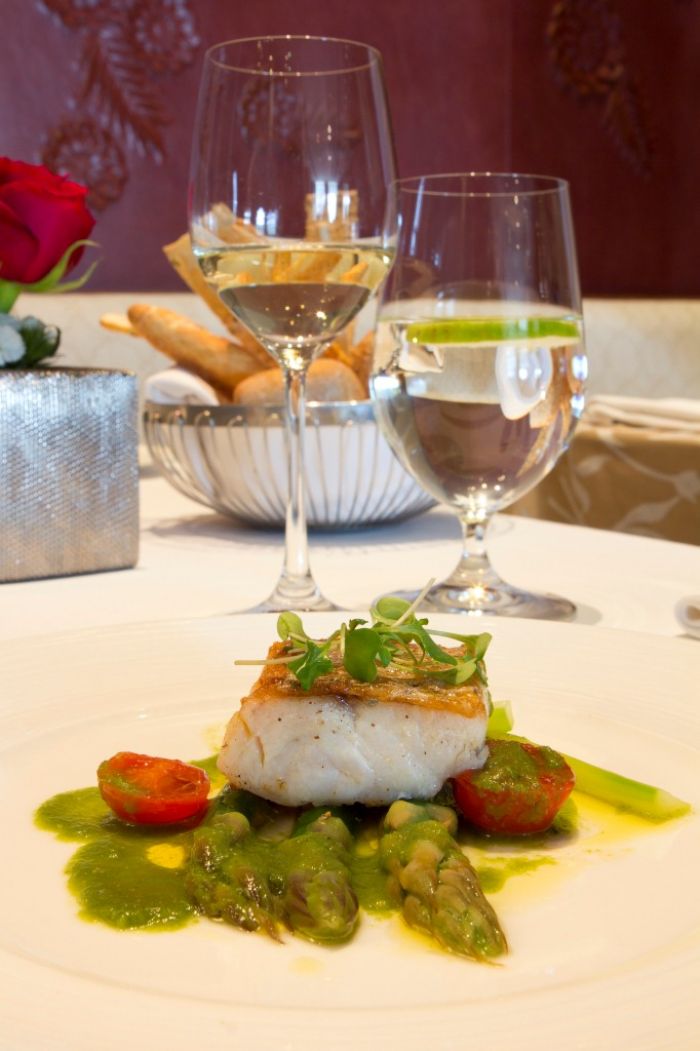 Photo Courtesy of Guy Santoro
This attractive seared and roasted Sea Bass recipe comes to us from Guy Santoro, the executive chef for
Hotel St. Regis Mexico City
. The rich greens and reds of the asparagus and tomato are a lovely compliment to the tender sea bass, sure to be the focal point of any dinner spread.
Yields:
10 Servings
Ingredients:
64 Oz of Sea Bass (10 Fillets at 6.4 Oz)
80 Ml. of Olive Oil
Salt
Ground White Pepper
For the Green Sauce:
3.5 Oz of Baby Spinach
17.5 Oz of Green Tomato
3.5 Oz of Baby Onion
3.5 Oz of Poblano Chili (clean)
5 ml. of Water
Salt
Pepper
For the Asparagus:
35 Oz of Medium Asparagus (40 pieces)
1 Spoon of Coarse Salt
50 Ml of Olive Oil
7 Oz of Organic Tomato
Asparagus Preparation:
Peel the Asparagus and tie them in a knot in packs of 10 pieces.
Cook in boiling water with salt. Once cooked, cool in ice water. Untie the knot and cut the asparagus in half lengthwise, place them in a steel pan, season with salt and pepper, glaze with olive oil. Save for the next step.
Cut the tomatoes in half lengthwise, sauté in a pan with slightly coloured olive oil. Set aside.
Green Sauce Preparation:
Blend all the ingredients of green salsa. Once blended, season with salt and pepper. Add the mixture in a casserole and boil. Add butter.
Sea Bass Preparation:
Season both sides of the sea bass fillets with salt and pepper.
In an iron pan heat olive oil, place fillets with the skin touching the pan and let it cook until three quarters. Once it has reached this level, flip the fillets and finish cooking over low heat until it reaches the desired term.
Final Preparation:
Heat all the preparations above. Place in a serving dish 8 halves of asparagus.
Add the sea bass steak on top, cover with green sauce, decorate around the fish with organic cherry tomatoes and sprinkle extra virgin olive oil.
Garnish with herb sprouts.