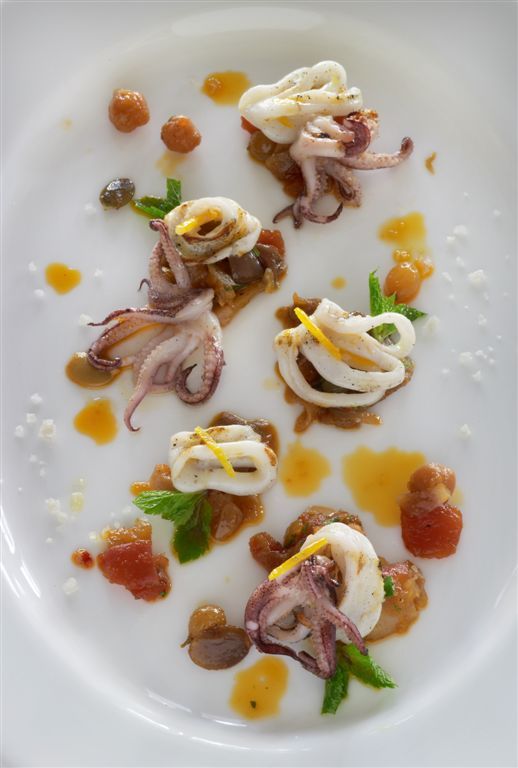 Photo Courtesy of Artisan Restaurant
This attractive seafood recipe for grilled calamari with eggplant chutney comes to us from chef Frederic Kieffer of Artisan Restaurant and would be the perfect way to impress your dinner guests.
Ingredients for the Calamari:
Cleaned calamari
Lemon juice
Mint julienne
Very thing orange zest
Extra virgin olive oil
Ingredients for the Eggplant Chutney:
3 lb of diced eggplant
Kosher salt
1 cup of extra virgin olive oil
1 pc diced onion
1 pc diced fennel
6 oz sliced garlic
6 oz golden raisin
0.5 oz harrissa paste
2 oz chermoula spice
3 oz brown sugar
2 cups moscato vinegar
1 lb diced tomatoes
12 oz cooked chickpeas
2 oz bay leaves
1 pc preserved diced lemon
5 ox toasted pumpkin seeds
Preparation for the Eggplant Chutney:
Soak the garbanzo beans overnight and cook the next day. Cook them until soft, not crunchy.
Dice the eggplant into 1/3 inch cubes, sprinkle salt all over the eggplant, let them render their water about 20 minutes, rinse them with a lot of water, dry them well. Saute the eggplant until golden brown, keep them aside.
Peel, seed and dice the tomatoes. Keep them aside.
With the olive oil, cook onion, fennel to golden brown. Add a little kosher salt. Add the garlic, cook for one minute. Add the raisins and sauté them until they puff up.
Add the spices render 1 minute. Add the sugar cook about 1 minute. Deglaze vinegar and reduce by ?.
Add the sautéed eggplants, tomato, chickpeas, bay leaves, preserved lemon. Simmer for 8 to 10 minutes
Add the pumpkin seeds to order.
Preparation for the Calamari:
Clean and cut the calamari.
Make the eggplant chutney (see recipe)
Julienne the mint and the orange peel.
To plate the dish:
Reheat the chutney on a sizzle pan under the broil.
Season and grill the calamari. Toss the calamari in the mint julienne, orange zests, lemon juice and olive oil.
Plate the chutney first and calamari on top.