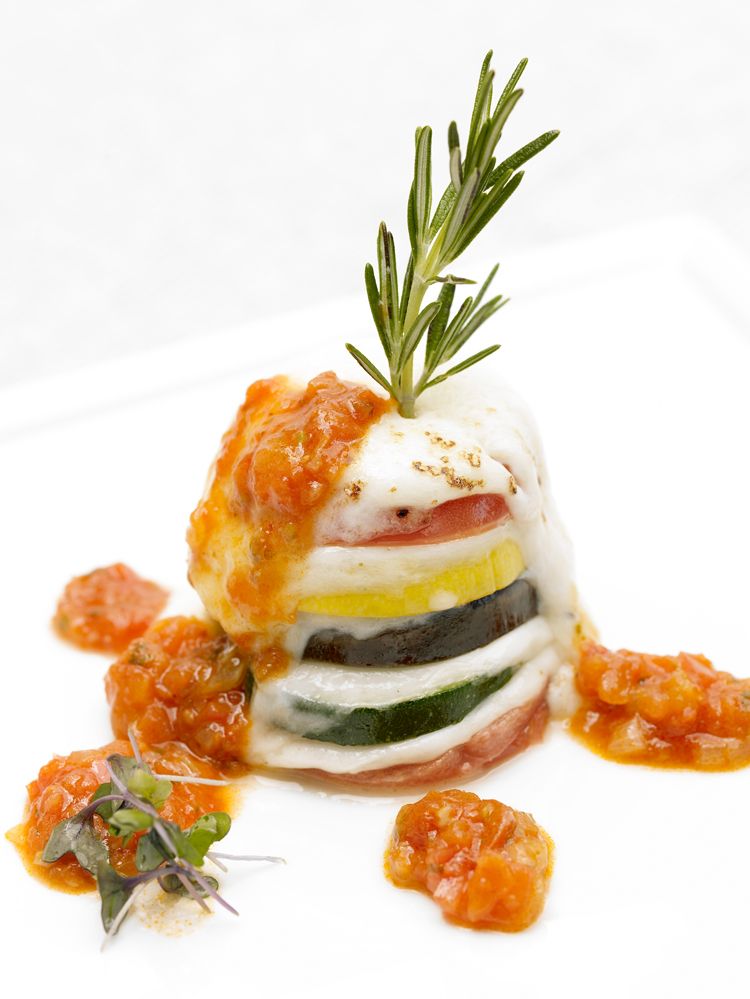 Photo Courtesy of Holland America
This great vegetarian dish of towering roasted vegetables comes to us from Holland America. The expansive cruise line features many different restaurants but this particular meal can be found on The Pinnacle Grill's menu. The memorable restaurant strives to use only the best of ingredients that, combined with their 1,600-degree grill which traps in flavors, help to serve guests some of the finest meals on the open sea.
If you can't check Pinnacle Grill out for yourself, you should definitely give this Tower of Roasted Vegetables with Mozzarella and Tomato Sauce recipe a try in your own kitchen.
Ingredients for Veggies and Mozzarella:
1 small purple eggplant, to make 2 to 4 slices of the same diameter as the mozzarella
1 zucchini, cut crosswise into ?-inch-thick slices
1 yellow squash, cut crosswise into ?-inch-thick slices
2 tablespoons extra virgin olive oil plus extra for brushing
Salt and freshly ground black pepper
Basil oil (recipe follows)
1 (8-ounce) ball fresh, water-packed mozzarella cheese, cut into 10 slices
1 large ripe red tomato, sliced into 2 to 4 slices
2 sprigs fresh rosemary (for garnish)
? cup Basic Tomato Sauce (recipe follows)
Directions for Vegetable Tower:
In a large bowl, combine the slices of eggplant, zucchini, and yellow squash. Toss with 2 tablespoons olive oil and season with salt and pepper.
Heat a charcoal grill to medium hot (when you can hold your hand 5 inches above the rack for 3 to 4 seconds) or heat a grill pan over high heat. Grill the eggplant slices until well-marked by the grill and softened, about 3 minutes per side. Transfer to a large plate and grill the zucchini and yellow squash in the same manner (use a grill basket, if you have one, for the charcoal grill). Drizzle the vegetables very lightly with a small amount of basil oil if using. Let them cool to room temperature.
Heat the oven to 400°F. Place two 5-inch squares of foil on a baking sheet and brush them with olive oil. Make 2 towers using alternating layers of tomato, mozzarella, zucchini, eggplant, and yellow squash in any pattern you like (several slightly overlapping squash circles can make up a single layer). Place a skewer through the center of each tower down to the base to keep it in place (the skewer will stay in place throughout the cooking).
Place the baking sheet in the oven and roast the towers for 15 minutes (keep checking so the mozzarella doesn't burn).
Use the skewer to help you transfer each tower to a plate, sliding it off the foil right before positioning. Remove the skewer and place a sprig of rosemary in its place. Spoon some tomato sauce on and around each tower and serve immediately.
Ingredients for Basil Oil:
? cup extra virgin olive oil
1 bunch basil leaves, picked, washed, and gently dried
? teaspoon kosher salt
Directions for Basil Oil:
In a small saucepan, heat the olive oil just until very hot. Place the basil leaves and salt in a blender. Add the olive oil to the basil and blend until smooth. Set aside to cool.
Ingredients for Basic Tomato Sauce:
3 tablespoons pure olive oil
1 yellow onion, chopped
6 medium close garlic, very thinly sliced
? teaspoon crushed red pepper
2 tablespoons good-quality tomato paste
1 (28-ounce) can Italian plum tomatoes, preferably San Marzano chopped, juices reserved
1 (15-ounce) can good-quality canned tomato sauce
1 teaspoon sugar
1? teaspoons dried basil, crumbled or 1 tablespoon minced fresh basil
? teaspoon dried oregano, crumbled
2 bay leaves, preferably Turkish
Salt and freshly ground black pepper
Directions for Basic Tomato Sauce:
Heat the olive oil over medium heat in a large skillet. Add the onion and cook, stirring, until tender but not browned, about 10 minutes. Add the garlic and cook until it becomes a pale gold (do not let it brown), about 1 minute. Stir in the crushed red pepper and tomato paste and cook for 15 seconds. Add the chopped canned tomatoes and their reserved juices; cover, reduce the heat to low, and simmer, stirring once or twice, for 15 minutes. Add the tomato sauce, sugar, basil, oregano, and bay leaves. Cover and cook for 15 minutes longer. Uncover and simmer, stirring occasionally, until slightly thickened, about 5 minutes. Remove the bay leaves from the sauce.
If you'd like a smoother texture, transfer the sauce to a food processor and use a handheld stick blender. Season with salt and pepper. (The tomato sauce will keep, covered, in a refrigerator for up to 1 day or in the freezer for up to 1 month.)