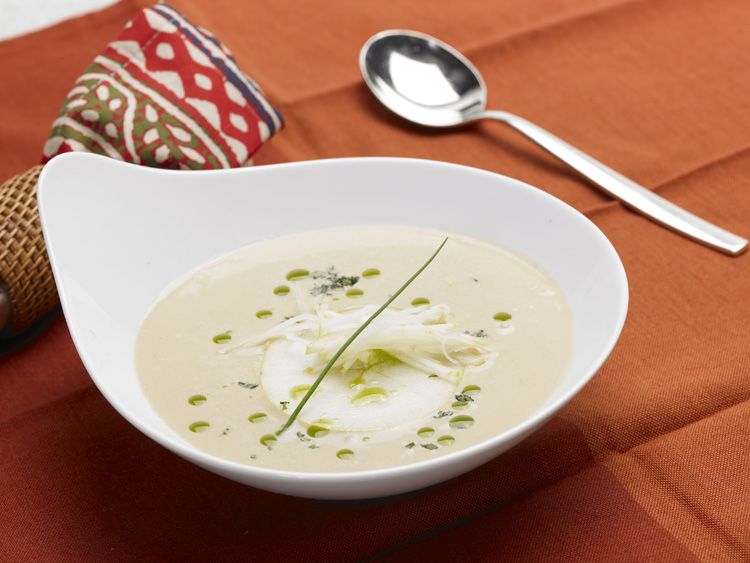 Photo Courtesy of Holland America
This hearty recipe for Roasted Zucchini Bisque comes to us from the expansive cruise line Holland America. Holland knows how to please your appetite and has many different types of restaurants aboard their ships. There's always something for everyone and they've been so kind as to share some of their favorite recipes with us.
This veggie-friendly zucchini bisque seems like it would be the perfect solution to a chilly night, satisfying our bellies while warming our fingers.
Ingredients:
1? pounds zucchini, halved lengthwise and seeds removed, then roughly chopped
1 medium onion, chopped
1 to 2 tablespoons extra virgin olive oil
Salt and freshly ground black pepper
2? cups low-sodium store-bought chicken broth and stock, or homemade
? teaspoon nutmeg
1 teaspoon chopped fresh basil
1 cup heavy cream
1 apple, washed, cored, and half thinly sliced and half cut into matchsticks (for garnish)
1 tablespoon homemade or store-bought basil oil (for garnish, recipe follows)
5 chives (for garnish)
Directions:
Heat the oven to 400°F. In a medium bowl, combine the zucchini and onion. Toss with the olive oil until lightly coated. Season with salt and pepper. Spread the vegetables around a baking sheet and roast for 30 minutes, or until the vegetable are browned on the edges and very soft.
Transfer the vegetables to a large saucepan. Add the broth and nutmeg and bring to a boil over medium-high heat. Reduce the heat to low and simmer, stirring occasionally, for 5 to 10 minutes. Remove from the heat and allow to cool for 10 minutes.
Transfer the soup in 2 batches to a blender and purée until smooth, adding half of the basil to each batch. (Alternatively, you can use a handheld stick blender.) Poor the puréed soup into a saucepan and season with salt and pepper. (From this point you can store the soup, covered, for up to 3 days in the refrigerator.)
Return the puréed soup to the saucepan and bring to a gentle simmer. Add the cream and season with salt and pepper. To serve, divide the soup among warm bowls and top with the apple slices and matchsticks. Serve immediately garnished with basil oil and chive strands.
Ingredients for Basil Oil:
? cup extra virgin olive oil
1 bunch basil leaves, picked, washed, and gently dried
? teaspoon kosher salt
Directions:
In a small saucepan, heat the olive oil just until very hot. Place the basil leaves and salt in a blender. Add the olive oil to the basil and blend until smooth. Set aside to cool.