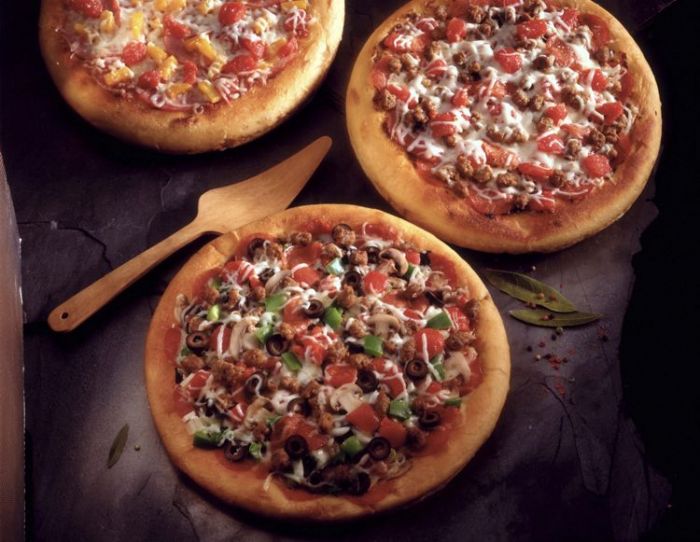 Photo Courtesy of Thinkstock
Pizza is a pretty common meal choice, with hundreds of variations to be found. This particular version of the popular dish was sent to us courtesy of Wolfgang Puck, via his easy-to-follow cookbook, "Wolfgang Puck Makes It Easy" (Rutledge Hill Press, 2004).
With savory sausage and crisp peppers this recipe definitely looks like a winner. If you're not a fan of sausage, the glory of pizza is that you can literally use whatever you want as toppings!
Yield:
Makes 4 8-inch pizzas
Ingredients:
2 tablespoons olive oil, plus additional for brushing the pizza crusts
2 medium fennel bulbs, cut into eighths, cored, and thinly sliced
1 teaspoon finely chopped garlic
1 teaspoon chopped fresh thyme
1 recipe pizza dough (recipe follows)
1/2 cup prepared pesto
2 cups grated mozzarella cheese
2 cups grated Fontina cheese
1/4 cup grated Parmesan cheese
1 large roasted red pepper (fresh or bottled)
6 ounces fennel sausage, crumbled or sliced
Directions:
Heat a large skillet over medium-high heat and add the olive oil. When the oil is hot, add the fennel and sauté until it is just tender, about 5 minutes. Remove the pan from the heat. Stir in the garlic and the thyme.
Place a pizza stone on the middle rack of the oven and preheat the oven to 500 degrees F.
Roll or press out the pizza dough as directed on the recipe below. Brush lightly with olive oil, then brush each pizza with 2 tablespoons of the pesto. Sprinkle the cheeses evenly over the pesto. Top with the fennel, red pepper, and sausage.
Using a lightly floured baker's peel or a rimless flat baking tray, slide the pizza onto the baking stone and bake until the pizza crust is nicely browned, 10 to 12 minutes. Remember that the oven is very hot and be careful as you place the pizza into and out of the oven. Transfer the pizza to a firm surface and cut into slices with a pizza cutter or very sharp knife. Serve immediately.
All-Purpose Pizza Dough (With Some Pizza Making Suggestions)
(recipe courtesy Wolfgang Puck, "Wolfgang Puck Makes it Easy" Rutledge Hill Press, 2004)
Yield:
Makes 4 small pizzas or 2 12 to 14-inch pizzas
Ingredients:
2 1/2 teaspoons (1 packet) active dry yeast
1 cup warm water (105 to 115 degrees F.)
1 teaspoon honey
1 tablespoon extra-virgin olive oil, plus additional for brushing the pizza crusts
3 cups all-purpose flour
1 teaspoon salt
Directions:
In the bowl of a stand mixer, or a large bread bowl, dissolve the yeast in the water. Add the honey and stir together. Let sit 2 or 3 minutes, or until the water is cloudy. Stir in the olive oil.
Using a stand mixer: Combine the flour and salt and add to the yeast mixture all at once. Mix it together using the paddle attachment, then change to the dough hook. Knead at low speed for 2 minutes, then turn up to medium speed and knead until the dough comes cleanly away from the sides of the bowl and clusters around the dough hook, about 5 minutes. Hold on to the machine if it bounces around. Turn out onto a clean work surface and knead by hand for 2 or 3 minutes longer. The dough should be smooth and elastic. When you press it with your finger it should slowly spring back, and it should not feel tacky. Kneading the dough by hand: Mix together the yeast, honey, water and olive oil as directed in a medium size or large bowl. Combine the flour and salt. Fold in the flour a cup at a time using a large wooden spoon. As soon as you can scrape the dough out in one piece, scrape it onto a lightly floured work surface and knead it for 10 minutes, adding flour as necessary until the dough is smooth and elastic.
Using a food processor: Mix together the yeast, honey, water and olive oil in a small bowl or measuring cup. Place the flour and salt in a food processor fitted with the steel blade. Pulse once or twice. Then, with the machine running, pour in the yeast mixture. Process until the dough forms a ball on the blades. Remove the dough from the processor and knead it on a lightly floured surface for a couple of minutes, adding flour as necessary, until it is smooth and elastic.
Transfer the dough to a clean, lightly oiled bowl, rounded side down first, then rounded side up. Cover the bowl tightly with plastic wrap and leave it in a warm spot to rise for 30 minutes (you can leave it for up to an hour). When it is ready the dough will stretch as it is gently pulled.
Divide the dough into two to four equal balls, depending on how large you want your pizzas to be. Shape each ball by gently pulling down the sides of the dough and tucking each pull under the bottom of the ball, working round and round the ball 4 or 5 times. Then, on a smooth, unfloured surface, roll the ball around under your palm until the ball feels smooth and firm, about 1 minute. Put the balls on a tray or platter, cover them with pan-sprayed plastic wrap or a damp towel, and leave them to rest for at least 30 minutes. At this point, the dough balls can be covered with plastic wrap and refrigerated for 1 to 2 days. You will need to punch them down again when you are ready to roll out the pizzas.
Preheat the oven to 500 degrees F. Place a pizza stone in the oven to heat. In the meantime, press out the dough. Place a ball of dough on a lightly floured surface. While turning the dough, press down on its center with the heel of your hand, gradually spreading it out to a circle 7 to 8 inches in diameter for small circles, 12 to 14 for larger pizzas. Alternatively, use a rolling pin to get an even circle. With your fingers, form a slightly thicker raised rim around edge of the circle. Brush everything but the rim with a little olive oil, then top the pizza as you like. You can transfer the pizza to a lightly oiled pizza pan if you like, or bake it directly on the stone.
Depending on your taste, spread the dough with marinara sauce or pesto sauce (about 2 tablespoons for small pizzas, 1/4 to 1/3 cup for larger ones). If you don't have sauce, a can of tomatoes, drained, chopped, and seasoned with salt and chopped sautéed garlic, will do. Top with the shredded or grated cheeses of your choice (I like a mixture of mozzarella and Fontina). Add thinly sliced vegetables such as Roma tomatoes, pitted olives, red peppers, or red onions; sautéed sliced vegetables such as mushrooms, eggplant, zucchini, or artichoke hearts; thinly sliced cured meats such as pepperoni or prosciutto; or small pieces of lightly cooked chicken or shrimp. Add a light sprinkling of grated Parmesan or crumbled goat cheese or bleu cheese and some minced or julienned fresh herbs such as basil or oregano or dried herbs such as thyme, oregano or herbes de Provence.
Dust a pizza paddle (also called a baker's peel) with semolina and slip it under the pizza. Slide the pizza onto the baking stone or into the pizza pan (or place the pizza pan on the stone – the heat from the stone will help it achieve a crisp crust). Bake until the cheese topping is bubbling and the rim of the crust is a deep golden brown, about 10 minutes.
Use the pizza paddle to slide the pizza out of the oven and onto a cutting board. Use a pizza cutter or a sharp knife to cut the pizza into slices and serve immediately.