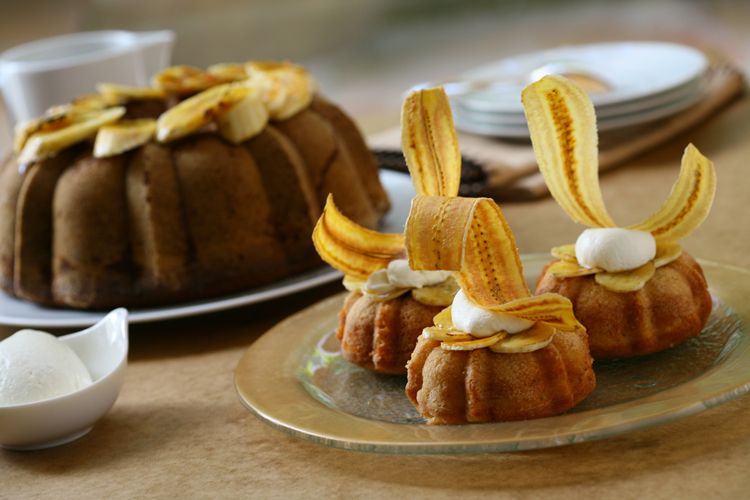 Photo Courtesy of Chocolate + Spice
This sweet Banana Bundt Cake was sent to us from the award-winning pastry chef Megan Romano on behalf of her Chocolate + Spice bakery in Las Vegas, NV. One can find a variety of artisan chocolates and hand-made pastry treats at the bakery, and we think it's great that Romano is sharing one of her great recipes so we can try it at home!
Approximate Baking Time:
40 minutes
Yield:
10" Bundt Pan
Ingredients:
12oz Butter
2 C Granulated Sugar
1 C Light Sugar
5 Eggs
1 1/2 C Bananas, mashed
2 t Vanilla Extract
3 T Dark Rum
3 C All-purpose Flour
1 t Baking Soda
1 t Baking Powder
1 t Salt
1 C Sour Cream
Directions:
Preheat the oven to 320F. Spray bundt pan with nonstick spray, dust with sugar.
Using mixer with paddle attachment on low speed, cream butter until soft. Gradually add light brown sugar and granulated sugar.
Add eggs to mixer one by one, add vanilla extract and rum.
Place bananas in a sealable plastic bag and mash with hands, add to mixing bowl.
Sift together all dry ingredients and add 1/3 at a time until incorporated.
Scrape sides of bowl.
Add sour cream. Mix on low speed and then pulse on medium speed to fully incorporate.
Spoon batter into prepared pan, drag a knife through to remove pockets of air.
Bake for half the total cooking time, rotate in oven and bake for the remaining time left.
Cake is done when a toothpick inserted comes out clean.
Cool on a metal cake rack until just a bit warm.
Place serving plate on top of cake pan and flip so cake is released from pan.