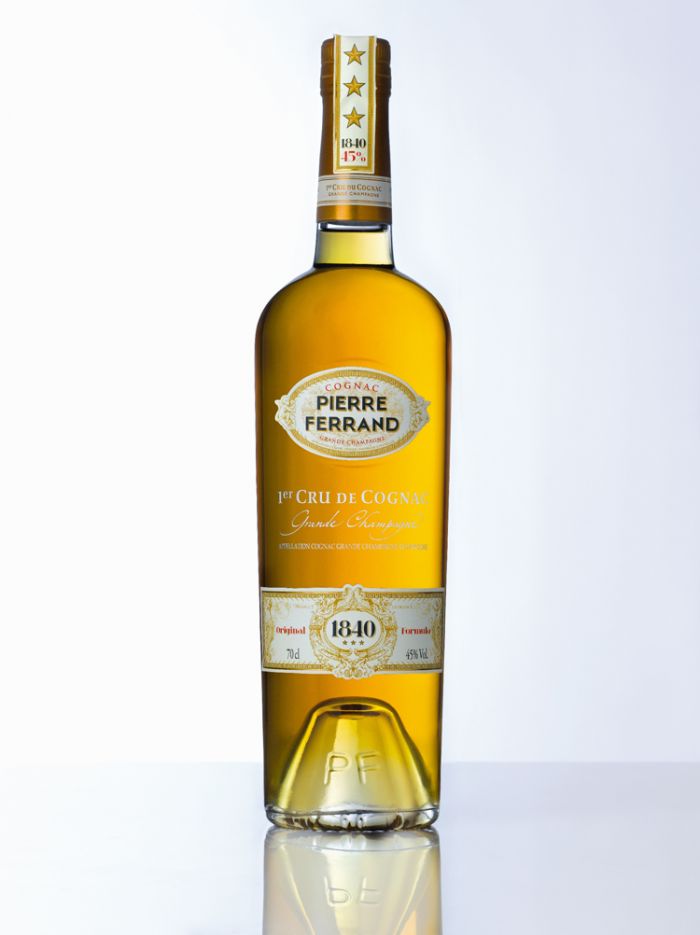 Photo Courtesy of Cognac Ferrand
Cognac Ferrand may be a small producer of Cognac, but they made a big impact recently on judges and fans alike with their
1840 Original Formula
, winning the highly sought-after Best New Product Award at the
Tales of the Cocktail Spirited Awards
.
While Cognac has always been a well-respected and regarded spirit, this is the first time that any Cognac has ever been honored with this distinction. But what really sets this particular expression apart is that it was developed by its makers to be used in mixed cocktails, whereas in the past, Cognac has been practically reserved solely for drinking straight up or on the rocks. While we all might enjoy our
Mad Men
moments from time to time, it's always great to mix things up... literally.
Specializing in the traditional process of Cognac production techniques, Alexandre Gabriel (owner of Cognac Ferrand) sets himself apart from other spirit producers by utilizing age-old craft-based production methods. With the goal of recapturing the true nineteenth century taste of Cognac, it looks as if Gabriel has more than succeeded. Pierre Ferrand 1840 is bottled at 90 proof, higher than most Cognacs, thus making it perfect for mixing in drinks.
Gabriel explains, "...Cognac deserves to be back behind the bar in a place of honor where it enjoyed decades of prominence as THE spirit for cocktails. We created Pierre Ferrand 1840 to be that kind of Cognac and to receive this honor shows that we did the right thing. We are very happy."
The Tales of the Cocktail Spirited Awards has been held every July for the past 10 years in New Orleans, attracting more than 22,000 people each year. To make the final picks, this past competition brought in 17 illustrious judges, including world-class bartenders, bar owners, brand ambassadors, and experts and authors.
"Cognac has always been a well-respected spirit, but without a lot of visibility in modern cocktails," says Ann Tuennerman, founder of Tales of the Cocktail. "Pierre Ferrand 1840, by winning Best New Product at this year's Tales of the Cocktail, has shown that Cognac is also able to get the respect of bartenders, with a product that has the rich and sophisticated flavor for sipping as well as the depth and complexity necessary to let it shine in a cocktail."
With the Best New Product Award on their shelf, it's now time for Cognac Ferrand to take their title one step further. March brings the prestigious San Francisco World Spirits Competition and Pierre Ferrand 1840 Original Formula Cognac will be going against some of the biggest names in the business. Last year, long-standing leader of quality Cognac, Hennessy Cognac Richard Hennessy, was the winner of the Best Cognac and Double Gold Medal Awards. Needless to say, the 2013 San Francisco World Spirits Competition will be a great (and tasty) one.
Check out a recipe for
The Chanticleer
below.
For more information visit:
PierreFerrandCognac.com
.
Pierre Ferrand 1840 Original Formula Cocktail Recipe:
The Chanticleer
(Source: New York
Sunday Mercury
via New Orleans
Daily Picayune
, 1843; adapted by by David Wondrich)
Put 1 barspoon/5 ml superfine or caster sugar in a small tumbler.
Add 1 barspoon/5 ml water and stir to dissolve sugar.
Add 2 dashes Peychaud's Bitters or The Bitter Truth Creole Bitters
Add 1 dash absinthe
Add 2 ounces/60 ml Pierre Ferrand 1840 Original Formula
Fill glass with cracked ice and stir. Twist lemon peel over the top and serve.