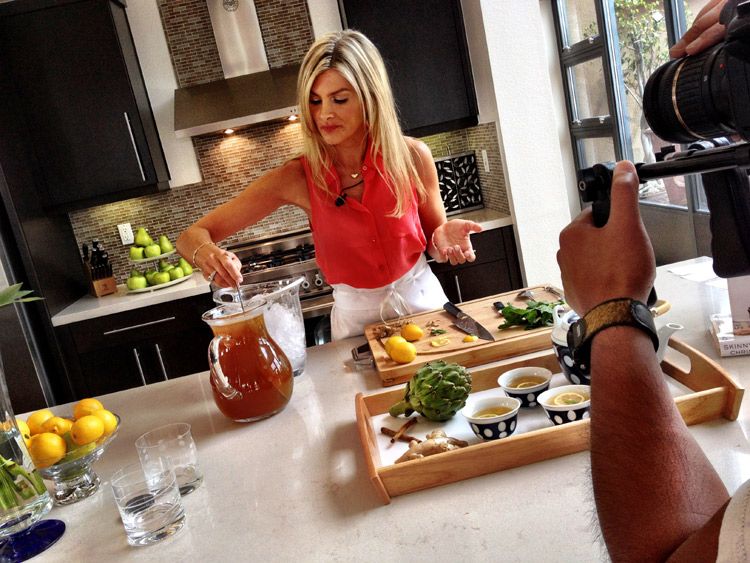 Christine Avanti, celebrity nutritionist and best-selling author of the Skinny Chicks series, lives by the philosophy that healthy food need not sacrifice flavor or options. She applied the weigh-loss theories from her latest book, "Skinny Chicks Eat Real Food," to her role as chef-consultant on the Food Network show, 'Fat Chef'. Successfully, each week she nutritionally guides overweight food professionals, kicking the pervasive chemical-laden and processed "diet" foods to the curb.
Christine creates whole food recipes that highlight the healthful properties of fresh produce, unrefined grains and sweeteners along with hormone-free animal products while still satisfying taste.
Recipes
and nutritional tips by Avanti have been featured in InStyle, US Weekly, Health, Self and Fitness Magazines. In the following videos, made exclusively for JustLuxe, she demonstrates four summer party favorites with her real food twist, simply ideal for healthy entertaining and impressing your guests!
Christine Avanti demonstrates recipes perfect for summer entertaining: Detox Iced Tea, and Skinny Chips with Fire-Roasted Verde Salsa.
Christine Avanti demonstrates indulgent recipes perfect for summer entertaining: Watermelon and Coconut Granita, and a Skinny Mojito.
Learn more at
ChristineAvanti.com
A peek behind the scenes: