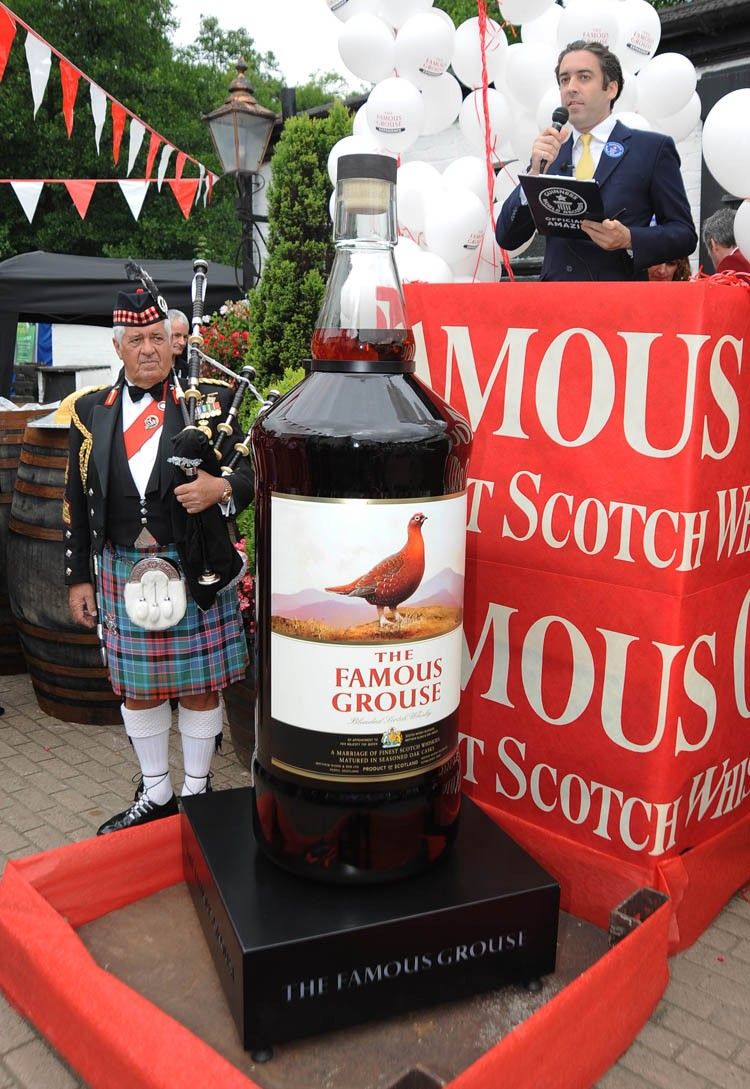 Photo Courtesy of The Famous Grouse
Most records involving whisky revolve around either the age of a specific malt or the price it has fetched at auction. But this latest bit of news takes on a larger dimension. In Scotland last week The Famous Grouse set a new world record by filling the largest bottle of whisky in the world.
Holding 200 liters (or 9,120 drams) of the premium blended scotch, the bottle - handcrafted specifically for the purpose by Bomma in the Czech Republic - stands an imposing five feet, five inches tall and will be on permanent display at The Famous Grouse Experience. The visitors center - which celebrates its tenth year - is located at the Glenturret Distillery, which also claims the crowns of both Scotland's oldest distillery and its most visited.lltitle=World's Biggest Bottle of Whisky### llcontent=The Famous Grouse is responsible for the world's biggest bottle of whisky, a new world record. Able to hold 200 liters, this bottle is definitely reserved for the heavy drinkers.
The record was certified (appropriately enough) by the Guinness Book of World Records, and supplants the previous record held by a 184-liter bottle of Jack Daniel's. After helping their hosts fill the bottle over the course of three hours,  guests at the event were also treated to a show of traditional Highland feats of strength by strongman Gregor Edmunds.
Billed as "Scotland's favourite whisky," The Famous Grouse is a blended scotch from the Edrington Group that also distills the Highland Park and Macallan single malt whiskies, both of which (alongside Glenrothes) are used in blending The Famous Grouse. Several expressions are available, including the Black Grouse, Snow Grouse, Naked Grouse, and of course the original Famous Grouse.
For more information visit
TheFamousGrouse.com
.