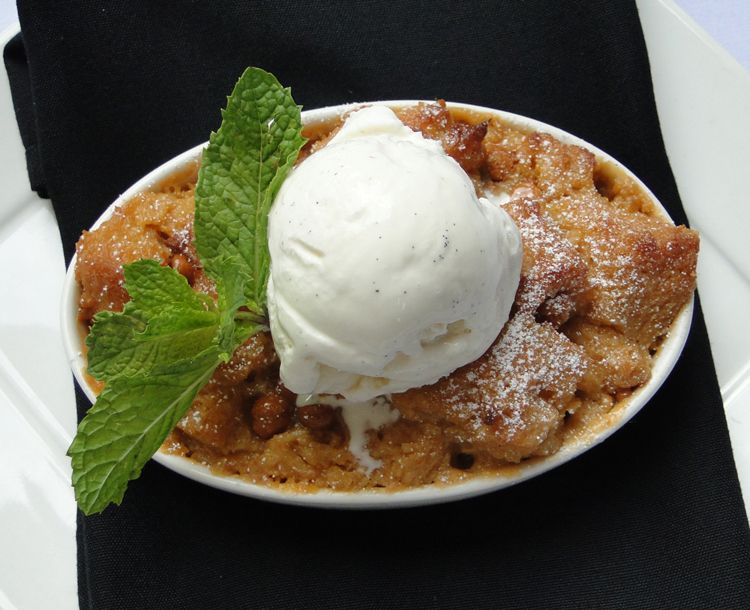 Photo Courtesy of Abe & Louie's
This tasty Butterscotch Bread Pudding dessert recipe comes to us from Boston steakhouse
Abe & Louie's
. Known for their upscale atmosphere, complete with Hollywood-style booths and bronze chandeliers, this restaurant looks to have great taste when it comes to dessert. Serve the warm bread pudding with a nice scoop of ice cream and enjoy with someone special!
Tools:
Scale
Large saucepan
Rubber spatula
Whisk
Large mixing bowl
5-6" hotel pans
Cutting board
Serrated knife
Yield:
8 puddings
Ingredients:
1 1/4 cups Brown sugar sauce
2 ? oz Butterscotch schnapps
24 oz Heavy cream
4 Egg yolks
2 lbs Brioche 1 loaf
11 oz Butterscotch chips
Directions:
Trim crust off of brioche. Cut loaf into ? inch cubes. Set aside in large shallow container such as a roasting pan.
Heat brown sugar sauce in microwave until warm and fluid; set aside.
Place yolks in mixing bowl; set aside.
Bring cream to a boil in saucepan, add ? of the butterscotch chips and whisk until melted.
Whisk in brown sugar sauce and schnapps.
While whisking constantly, add cream mixture into yolks.
Pour custard over brioche. Press down to thoroughly soak brioche. Cover with plastic and let sit at room temperature.
Sprinkle remaining butterscotch chips onto bread pudding.
Fill 8 10-12 oz baking dishes with bread pudding. You may also transfer to a smaller baking dish, cover with aluminum foil and bake bread pudding as a whole for 40 minutes.
Bake individual bread puddings at 350F for 15 minutes or until puffed and golden brown.
Serve hot.