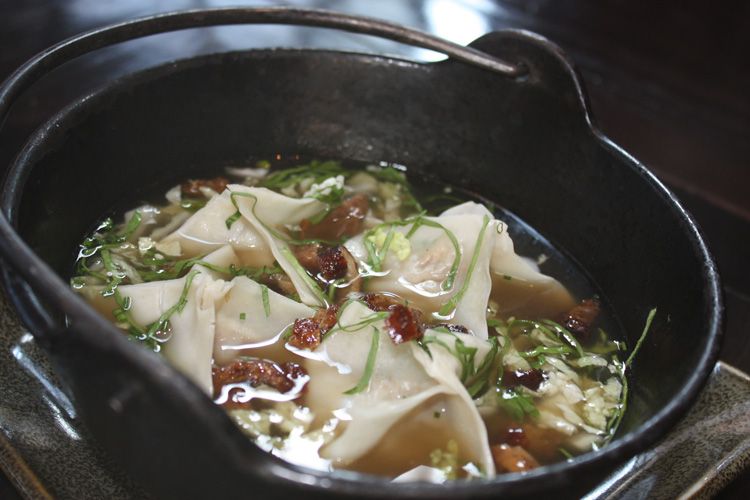 Photo Courtesy of Sunda New Asian
This recipe for duck wonton soup would be great for anyone looking to throw some variation into their meals. Coming to us from Executive Chef Jess DeGuzman at the award-winning
Sunda New Asian
restaurant in Chicago, this recipe is sure to excite your taste buds.
Wonton Ingredients:
24 wonton wrappers
3 lb. pre cooked roasted duck quarters (minced)
4 oz. duck skin (finely chopped)
1-8 oz. can water chestnuts (drained and chopped)
4 oz. c grade foie gras (finely chopped)
2 oz. chopped shallots
1 oz. minced garlic
1 tsp. minced ginger
2 tsp. honey
1 tbsp. soy sauce
Soup Ingredients:
8 cups duck stock
8 cups chicken stock
1 tbsp. soy sauce
1 tbsp. mirin
1 tsp. sesame oil
1 pinch white pepper
1 pinch chili flakes
salt and pepper to taste
Garnish Ingredients:
¬Ĺ bunch spinach (shredded)
2 cups Napa cabbage (julienned)
1 cup scallions chopped
4 oz. chopped duck skin (fried crispy)
Directions:
For Soup:
Combine soup ingredients and bring to a boil. Then set aside.
For Wonton:
In a bowl mix duck, duck skin, water chestnuts, foie gras, shallots, garlic, ginger, mix well and set aside for 30 min for flavors to blend.
Place 1 tsp of the filling in the center of the wonton.
Use an egg wash to seal wonton together.
To Finish:
Bring 10 cups water to boil and add wontons cook for 4-5 min.
In a separate pot bring soup to a boil.
Transfer soup to individual bowls. Add wontons to the bowls. Top with spinach, Napa cabbage, scallions and crispy duck skin.