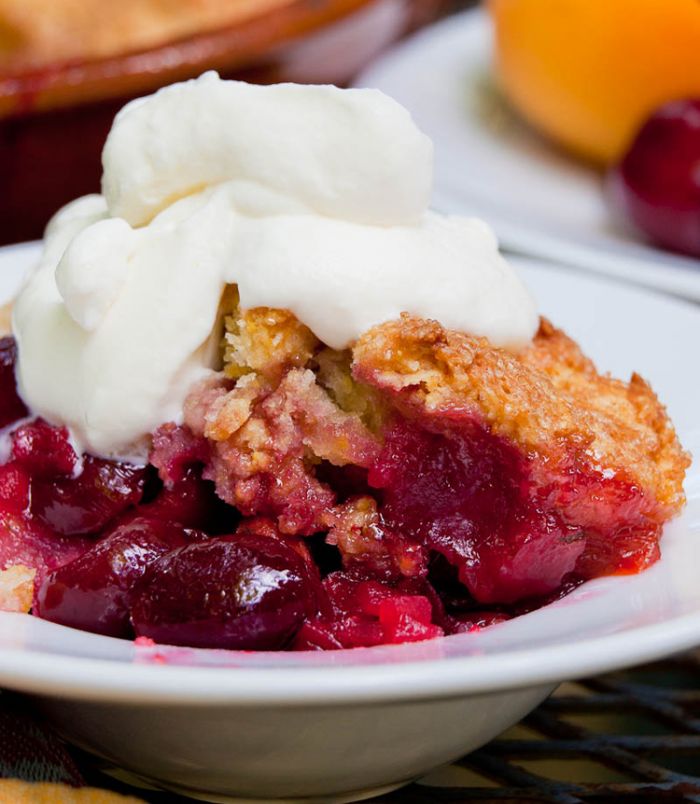 Photo Courtesy of Ken Rivard
Cobbler is a favorite of many and this bright recipe for Apricot-Cherry Cobbler may end up being your new reigning dessert champion. Sent to us from Jody Adams, the chef and owner of
RIALTO
in Cambridge, Massachusetts, this recipe looks easy as pie. You can find this recipe, and more, on
The Garum Factory
, the cooking blog Adams shares with her husband, Ken Rivard.
Serves:
8
Filling Ingredients:
1 pound apricots
1 pound cherries
1/3 cup sugar
Zest of 1 lime
? cup crystallized ginger slices, chopped into 1/8 inch pieces
Topping Ingredients:
1 cup unbleached all-purpose flour
2 tablespoons cornmeal
2 tablespoons granulated sugar
1 teaspoon baking powder
? teaspoon baking soda
? teaspoon salt
6 tablespoons unsalted butter, cut into 1/2 inch cubes and chilled
? cup buttermilk, cold
1 tablespoon turbinado sugar
Instructions:
Wash the fruit. Slice each apricot in half and remove the pit and put the halves into a large bowl. Remove the pits from the cherries with a cherry pitter or cut in half and remove with your hands and add to the bowl with the apricots. Add the remaining filling ingredients and toss well.
Transfer to a shallow overproof baking dish.
Put all of the topping ingredients except the butter, buttermilk, and turbinado sugar into the bowl of a food processor. Pulse to mix. Add the butter and pulse 4 times to breakdown the butter into pea sized pieces. Transfer to a bowl. Add the buttermilk and stir to just combine.
Put teaspoons of the topping evenly over the fruit. Sprinkle with the turbinado sugar. Refrigerate for 30 minutes.
Preheat the oven to 375 degrees. Bake the cobbler 45 minutes or so. Let rest 10 minutes before serving.
Serve warm or at room temperature with whipped cream.